Giant Mazinger Z and life-size PreCure Heartcatch statues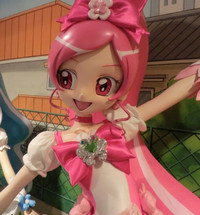 TOEI ANIMATION is the one of the oldest and biggest anime production studio in Japan. It was founded in 1948 as Nihon Douga Eiga (Japan Animated Films) and has produced numerous popular anime series such as GeGeGe no Kitaro, Mazinger Z, Kinnikuman, Dragon Ball, Saint Seiya, Sailor Moon, PreCure(Pretty Cure), and ONE PIECE. Many of their works have been very successful even outside of Japan. In 2003, they opened their own gallery, TOEI ANIMATION Gallery, at their studio in Nerima, Tokyo, to exhibit their history and to feature the latest series.
Thankfully, I (M.Komatsu) was allowed to take pictures inside the gallery by TOEI ANIMATION on July 23. I post some of them here for the Crunchyroll News readers. Please Enjoy.
At Ohizumi Gakuen, the nearest station to the studio, there's a giant billboard of the studio and the
gallery featuring Suite PreCure, the eighth and the latest PreCure TV anime series.
TOEI ANIMATION studio entrance. Admission for the gallery is free.
The studio building
Another big Suite PreCure billboard on the north side of the building
A big PreCure DX3 screen at the entrance of the gallery
Cure Moonlight says, "Please don't run in the corridor!"
The posters of TOEI's classic and popular anime series along the corridor to the main exhibition hall
At the entrance of the main hall, they give every visitor an anime-related present.
I chose a film bookmark of the Heartcatch PreCure movie. A Cure Marine one.
The main exhibition hall
Mazinger Z statue (about 5~6 m?)
1/1 Heartcatch PreCure statues (sadly, no Moonlight here)
PreCure Christmas Tree
Stuffed Chopper (ONE PIECE) in the front of Heartcatch Precure movie posters
The history of TOEI ANIMATION, and the movie posters in 60's~70's
A monitor playing the 20-minutes video "How to make anime" using PreCure MaxHeart
Continues to Part 2 (ONE PIECE exhibition and toy/figure room)...