Second Set of Cosplay Pictures from Otakon 2011.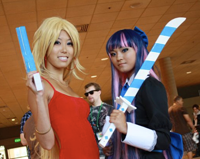 This is the second set of our Otakon photography coverage. Anime3000.com also interviewed several actors and musicians in attendance. Our A3K TV content will include: Tony Oliver, Sixh, Scott Freeman, Scott Sager, Tom Wayland and Patrick Seitz. Keep checking Crunchyroll News and Anime3000.com for future updates.


To see larger versions, please click the main image. This will take you to our Facebook Image Gallery. The following pictures were taken by A3K photographer, Frankie Nobile.