The first permanent PreCure official store in Tokyo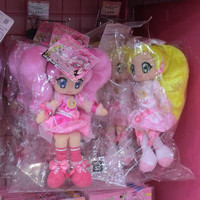 PreCure Pretty Store, the first permanent official store dedicated to the popular anime series PreCure/Pretty Cure, opened at the Tokyo Character Street next to the Tokyo JR railway hub on July 15 this year. A small Toei character shop featuring PreCure (and Kamen Rider) has been existed at Toei Uzumasa Eiga-mura (Toei Kyoto Studio Park) in Kyoto, but this is the first independent and PreCure-exclusive store in Japan.
I had an opportunity to visit the store in Tokyo. The store owner was kind enough to allow me to take some photos inside the store. Most of the items they are selling are related to Suite PreCure, the latest TV series. It may be disappointed for the fans of the old series? But still, their selection are huge and gorgeous. Now you can understand how much money Japanese parents have to spend for their kids every year and why the PreCure series have been so successful in Japan.
PreCure Pretty Store
Store sign
Cure Melody and Cure Rhythm welcome you.
"Cure Doll"
"Funwari Cure Friends" dolls
Narikiri Charareet Kids (Cure Beat's Costume for kids)
Baseball caps
Balls
Towels, washbowls, bath chairs
Fireworks
Round fans
Pouches
Fashion glasses
Nail polish
Stickers
Puzzles
Coloring books
Various stationery
Various eating utensils
Chopsticks
Toy money
© Toei Animation/ABC