Free visual novel game takes place at pigeon-populated school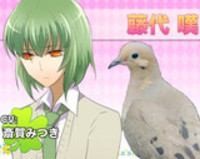 Imagine if you will, that you are the only human present at St. PigeoNation's Institute, "the most splendid and greatest academy of the pigeon, by the pigeon and for the pigeon." Yes, pigeons. And then imagine, that in your second year, you begin to feel strange new emotions that could even be called...love; "The unexpected softness of a pigeon's rhinophyma..." We don't ask questions, we just play the new free (downloadable for Mac and Windows!) visual novel game, Hatoful Boyfriend.
The title appears to be a pun on the words "heartful" in English and "hato" (pigeon/dove) in Japanese.
At school you can take classes like gym and music to level up stats, but I had more fun going to the health room for no other reason than to hear the teacher's voice:
"Uhm, I wanted to hear your voice..." You would too if you had seen his personified portrait.
For people who have a hard time relating to images of pigeons, each character receives a human portrait the first time you meet them:
You can totally see the resemblance, right?
I can't even tell you how happy I was to run into my math teacher at the Tanabata festival:
"I was just about to head home, but if you like I'll walk you to your place." Thanks, Teach! How could I have ever gotten back all alone in the dark?
Alas, you'll have to know your Japanese to advance this "heartwarming love story," but if you're interested, by all means check out the official site, which is plastered with notices that this is NOT an April Fool's joke.