Tochigi girls senior high on the top of the 350 high schools in Japan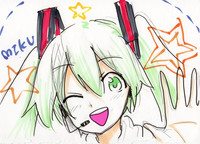 Here's the second day's report of Manga Koshien 2011, the 20th National High School Manga Championship of Japan. On the early morning of August 7, before the final began, the consolation match was held at Hirome-Ichiba, the second event place in the Obiyamachi arcade. Only five teams from the twenty losers in the preliminary round the day before can join the final stage.
"We have another chance!!"
Opening ceremony of the second day. Of course the number of teams has decreased.
Morning speech by a manga artist Tetsuya Chiba (Ashita no Joe)
The second day's theme is "The 100th Manga Koshien".
The teams have to imagine what Manga Koshien will look like after 80 years from now.
Do our best!!
We made it in time!
The awards ceremony
Closing speech by Mitsuru Adachi (Touch, Rough, H2, Cross Game)
The third place winner: Kunimoto Gakuen Girl's High School
The second place winner: Shizuoka Prefectural Ito High School
And the first winner is..., Tochigi Prefectural Tochigi Girl's Senior High School!!
Congratulations on the victory, girls! At the ceremony, they announced they would donate all the reward of
300,000 yen (US$3,842) to the victims of the Great East Japan Earthquake 3.11.
In the coming third and final part of the Manga Koshien 2011 report, I will post as many manga graffiti
as possible. It seems so many people love to see those... By the way, the thumbnail's Miku illustration was
provided by Manga Club at Ozu High School in Kochi.
Related: FEATURE: National High School Manga Championship of Japan DAY ONE