Early Work By Hayao Miyazaki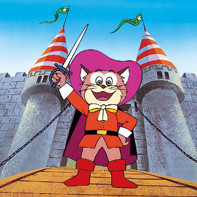 With Shrek spin-off Puss in Boots opening in theaters this weekend, it's a good time to recall that anime has also offered an adaptation of Charles Perrault's fairy tale.
The 1969 musical action comedy The Wonderful World of Puss 'n Boots was Toei Animation's (then Toei Dōga) 15 animated movie. It's notable in the history of anime for proving to be so popular that industry giant Toei adapted its lead as their local, and, it's notable for featuring the work of a young animator named Hayao Miyazaki.
Miyazaki took work as an in-between at Toei in 1963, and gained recognition for his work on 65's Gulliver's Travels Beyond the Moon, on which he a successfully pushed for a change to the movie's endings.
He'd make a larger mark as chief animator and concept designer on 1968's Hols: Prince of the Sun (also known as Little Norse Prince), which was directed by Ghibli co-founder Isao Takahata.
On Puss 'n Boots, as a key animator and story board artist under director Kimio Yabuki, Miyazaki worked along side his wife, Akemi Ota, as well as legendary animator Yasuo Otsuka. Miyazaki and Otsuka's work on the climax for Puss 'n Boots would serve as a template for a similar scene in their later collaboration, Lupin III: Castle of Cagliostro.
Miyazaki wouldn't contribute to the subsequent adventures, but Pero, the swashbuckling feline friend to mice star of The Wonderful World of Puss 'n Boots, would return in 1972's The Three Musketeers in Boots and 1976's Puss-in-Boots: Travels Around the World in 80 Days. The latter was licensed by Turner and adapted localized by Speed Racer's Peter Fernandez as Puss 'n Boots: Pero's Great Adventure, and served as the basis for a NES game.
The Wonderful World of Puss 'n Boots is available on DVD in North America from Discotek.