Meet Want to Blood, Lesser Pandas, and Batman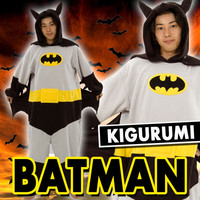 While many of us still have to wait until tomorrow to start gorging ourselves on candy corn, Halloween is happening RIGHT NOW in Japan. And in honor of the festivities taking place, we humbly present another selection of strange, bizarre, and baffling Halloween costumes that only could have come from the weird end of the Land of the Rising Sun. Check them out and try not to scream too loud!
Want to Blood? Sure! We all do! Maybe this English teacher they got to model this costume could have told a Japanese person that just saying "vampire" would be easier on everyone. Still...want to blood?
The only thing more terrifying than the previously seen New York Police costume would be these Nevada Police cosplay T-shirts. Who needs Reno 911 when you have lethal enforcers like these around patroling the hotel-casino beat?
Holy lack of muscle tone! Out of every interpretation of the Dark Knight we've seen so far (Christian Bale's, George Clooney's, heck even Adam West) all must now bow before the might and power of Kigurumi Batman!
The costume qualifies as terrible simply because it reminds us of how puny and insignificant the dollar is against the yen. Japan, how you mock us!
"We're pretty, aren't we?" asks this gang of folks sporting the intriguingly-named Bon Q Bon shirt, made more intriguing by the use of the stars and stripes. Warning: Wigs and duck faces not included with purchase.
Someone needs to remind this frown-faced sourpuss that Halloween is a holiday, not a death sentence. Still, we're not the ones who have to wear this unfortunate costume...
As tireless crusaders of inequality, we'd like to take a moment to point out that the animals in question prefer to be called Red Pandas, not Lesser Pandas! Did the makers of this costume not get our politically correct manifesto regarding this?
Finally, we come to the most terrifying costume in the bunch: the gaijin or foreigner with a beard!
HAPPY HALLOWEEN!
Note: All these pics were found under the category of "Halloween Costumes" on assorted Japanese e-commerce sites.