A day at Shueisha's Jump expo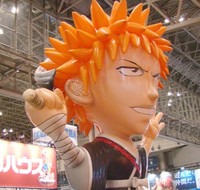 Jump Festa '12 was this weekend at Makuhari Messe in Chiba* and a couple friends and I took all day Sunday to run around.
All pictures are taken by either me or Alcide Guillory III, except the panorama of the second exhibit hall immediately above, by Melissa Golden.
On the way into Makuhari Messe from Kaihin-Makuhari station.
Shop for original goods to the left, exhibition halls to the right. The merch side had a much longer wait.
They wrapped us around the building.
Inside the merch zone, you had to fill out your order via catalog...
...and then have it filled while you waited. Very efficient for the number of people they must have moved through there.
"Jump" like Shonen Jump! Seen here: Jump Square, Saikyou Jump, etc.
Arashi x Nintendo promotions carry over into Jump Festa as well!
Lunchtime is also Jump-style.
Believe it—those senbei have seaweed eyebrows. Menu also includes: sakura ice cream, cola-flavored fried chicken, Low Sugar Parfait of Love (for Gin-san) made with soy to further cut calories, beef and octopus curry, burger (which sold out fast), yakisoba bread, and a really exceedingly long hot dog in a normal-sized bun. Various civilian drinks.
I'm a fiend for curry, so this was only natural. It was pretty lukewarm by the time it got to me, but provided the necessary afternoon energy. Octopus makes sense since it's "Killer B" branded...
They had Project Diva Arcade on free-play, but you had to take a ticket, show up at the appointed time, and wait a little bit.
This cuteness was out promoting Hatsune Miku and Future Stars Project Mirai.
In case you didn't see enough Pokémon x Nobunaga's Amibition (not a joke) yesterday!
Sony Computer Entertainment
Different kind of gaming.
Super-deformed Toriko unfolding hamburger playset...
This was pretty fabulous so I got up close.
The Gashapon corner.
Have you ever thought of decorating a X-mas tree with cellphone straps?
My capsule toy haul. Couldn't resist "Burger x Chopper."
Of course, when collecting "Burger x Chopper," the burger would be key. Alas...
Annnnnnd those are the Jump Festa '12 pics! The resolution was pretty much never ideal, and we didn't take shots of every single thing, but hopefully you got a good taste of what the scene was like. We have more Jump Festa coverage coming soon, so keep an eye out!
*Updated: Makuhari Messe is in Chiba, not Tokyo!