Still working out the kinks—and I don't mean The Kinks—but might hook you in a surprising way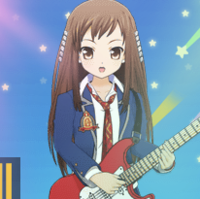 We first mentioned Guitar Shojo back when the teaser site appeared a couple weeks ago with staff and cast info, back when we had no idea what it was. Now, the app where you support aspiring (animated) guitarist and singer Erika Ochanomizu is out, as is this iPhone wallpaper:
"I'm a smartphone, so I can do it, a new music experience!"
Guitar Shojo is an iPhone/Touch app where you hang out with this high school girl, Erika, who has dreams of a making it big in music. It comes loaded with a trial song for free, but if you purchase more (both original and cover) you'll see her path to stardom begin to unfold...or something?
Erika and her voice, Yui Ogura (Alice from Kami-sama no Memo-chō , Hinata Hakamada from Ro-Kyu-Bu!) twitpic via @kisalantis
It's kind of an interesting concept, maybe, especially considering the involvement of singer and voice actress Yui Ogura, and yeah, she both sings and voice acts in this app.
When you boot up, Erika starts off chilling at school, where you can adjust your playlist, buy new songs, and learn more about how to use the app. Swiping to the left takes you to her street performance area, where you can watch her sing the songs you like, with plenty of options to skip to your favorite part. Another swipe and you even follow Erika back to her room, where she'll tell time for you if you tap the clock. Home also provides an alarm function (so you can wake up to her peforming) and a closet-like menu for TBA clothing changes and other "items."
She's accusing me of always staring at her legs with pervy intent.
At any of the three game locations, touching Erika will start up a little chat—and it really is a touch more than a tap; I had to try a few times to cop the feel for it. You saw what I did there, and she will indeed change her reaction depending on where you are "looking." She'll also reveal her insecurities to you. When she asked me if I thought she had any real talent, I said yes (I'm a fan, right?), but she got even more upset. It could be that buying songs will encourage her more than words alone, but we'll have to wait and see, since the store is pretty sparse at the moment.
Lyrics appear on the screen so you can sing along.
Oh, you know how getting Japanese apps is kind of a toss-up? It's hard to say which apps cross regions and which don't. Well, this one the United States (at least?) can have. I was thinking maybe the free program itself would work and then it would hang up on the store, but no, I just bought—because I could—covers of the first opening to Urusei Yatsura, "Lum's Love Song," and Boowy's "B ・Blue" for four dollars...each. So, that pricing is going to be a tricky spot. For four dollars it might have been nice to notice a new artist, Guitar Shojo, in your music folder containing mp3s of the songs you've purchased so you could jam to them outside the app, but no such generosity.
Speaking of tricky spots, there seem to be some bugs, as I have experienced audio and video de-sync, and the music continuing to play after Erika stopped and even went into the next room. The app has crashed once so far and seems to require all the memory my phone can give it (requesting repeatedly that I close other apps).
All that said, there is a hook, and it could be a big one: the promise of a "real concert" if Erika gets the support of 1,000,000 people. What does that mean? Is [music publisher and Guitar Shojo-co-developer] Lantis gamifying Yui Ogura's solo debut in a gamble on otaku fandom even though she already sings with Kaori Ishihara as YuiKaori on another label? (That couldn't be, right? Maybe an OVA or something?) A bar tracks progress in the store menu (pictured above). The second bar shows your current goal, which, as of this writing, is 10,000 supporters with the reward new clothes. Supporters? In case you missed it, that's us, so they are banking on word of mouth. We're almost a way to 1/3 of the way to that first 10,000...
Erika's favorite artist is Eric Clapton.
Alarmingly, I may find myself feeding more cash into this thing out of curiosity, even though it seems like all that really needs to happen is 1,000,000 free downloads. So far, the only two items in the store were the songs I bought, but I'm sure we'll see more soon enough—after all, today is just the first day. To be clear, there is no real "game" here; they could have done something like Beat It! or Rock Band (i.e. a rhythm game), but instead you just sit and watch...well, and support. If you understand that, and still feel compelled to add yourself as a blip on the 1,000,000 fan meter, then by all means, search the App Store under developer "Lambda Film" and grab ギター少女.