The must-see titles of the past year, according to Crunchyroll News' writers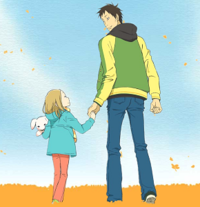 2011 was a pretty solid year for entertainment. Anime, manga, games, and more--there was plenty to enjoy and a lot that will be remembered for years to come. CrunchyNews' writers and editors take a look back at what they found to be the best from the last twelve months in anime and manga--check out Part Two for CRN's favorite gaming picks from 2011!
Emily Balistrieri
Nichijou- This show leaped into my all-time top faves almost immediately. Wish the NOT ordinary, "ordinary life" show would have gotten a second season.
Puella Magi Madoka Magica- Hopped on this magical girl bandwagon and very happy I did. Can't wait for the DVDs to hit the states!
Un-Go- The stylish supernatural mystery show plus Episode 0 Inga Ron, which I was lucky enough to catch in the theater in Japan. Just something about that pair of Shinjuurou and Inga.
Mikikazu Komatsu
TV anime: Suite PreCure- Average series, but the yuri relationship between Hibiki and Kanade is the strongest!

Anime movie: Suite PreCure: Torimodose! Kokoro ga Tsunagu Kiseki no Merody- Simpler plot than the last year's Heartcatch movie, but I loved they focused more on the personal relationship between Hibiki and Kanade.

Manga: Gold Ring: Volume 1 (English) by Qais Sedki and Akira Himekawa- First Arabic manga by a UAE author and Japanese artists. Finally I was able to read it in English and understand the story this year. Very good educational manga for anyone to learn about Arabic culture!
Joseph Luster
Kaiji - Ideally, Kaiji would be super popular in North America. I'd certainly like to think it would blow up if someone licensed it, but who knows. Still, if you managed to catch the second season this year, you know how dangerously addictive it can be. Zawa zawa, indeed.

Hunter x Hunter - I'm a sucker for shonen series. I'm an even bigger sucker for the work of Yoshihiro Togashi, and the animated re-do of Hunter x Hunter has me hooked hard enough to ignore the fact that the latest ep was a recap.

Redline - Yes, this film technically came out in 2009. Thankfully, import-savvy anime fans were treated to a subtitled Japanese blu-ray, and the real lucky ducks got to see it on the big screen. Redline will go down as a classic, and anime rarely does it like Takeshi Koike's rubber-burning spectacle anymore.
Patrick Macias
3. Cardfight!! Vanguard- I don't play collectible card games, but I love how crass and shameless the anime based on them are.

2. Fate/zero- Probably for the same reasons you liked it.

1. Toriko- Every gloriously stupid shonen manga cliché jammed into a single show. Why can't real life be like this???
Nate Ming
Tiger & Bunny- Sunrise's compelling and original superhero story showed that anime can have fast, fun and character-driven buddy comedies. It's been a long time since "one more episode" meant I marathoned a quarter of a series in one go.

Blue Exorcist- What could have been a very basic, generic "schoolboy battles demons" series has great characters you can't help but cheer for, jaw-dropping animation (especially for a TV anime) and a whole hell of a lot of heart.

Toriko- Let's do a math problem: Fist of the North Star's excessively manly combat, plus One Piece's refreshing, honest sense of adventure, and Iron Wok Jan's obsession with strange ingredients, cooking, and food equals... Toriko! It's rare to get a show that's this much pure fun all the way through.
Honorable mention: Sacred Seven for its vibrant animation and intelligent handling of familiar plot elements. Plus, I'm an enormous Mutsumi Inomata fanboy and his character designs are sharp as a tack. I've only watched a few episodes and had to put it on the back burner for now, but it's one I'm definitely returning to.
Head on over to Part 2 for more anime picks, as well as CRN's picks for the best video games of 2011! What anime and manga do you think really stood out this past year? Let us know in the comments!