Gene Luen Yang talks Asian Americans in comics, Avatar, and more at in-store event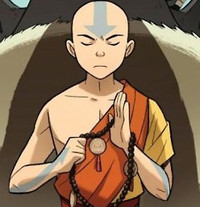 Yesterday, comic shop Fantastic Comics in Berkeley, CA held an event celebrating the release of Avatar: The Last Airbender - "The Promise - Part One." The three-part comic series serves as a bridge between the original Nickelodeon cartoon and its upcoming sequel, Legend of Korra, so naturally it comes bundled with a load of eager fans and high expectations. Writer Gene Luen Yang (American Born Chinese) was the man of the hour at the event, and his insightful presentation covered everything from the abundance of Asian American talent in the comics industry, to how he got involved with continuing the story of The Last Airbender.
Yang offers no false hope to those who wish to make a living in comics. In a world where pretty much everyone needs to hold multiple jobs, he spends his days as a high school computer science teacher, and dons his cartooning cowl at night. In his own words, "I'm like Batman; not just in my physique, but in the fact that I have two different jobs." Comics have continued to take up more of his time, though, especially since his 2006 graphic novel, American Born Chinese, was met with so much acclaim, receiving multiple awards. Now he's down to a single class, teaching part-time and making more room for colossal projects like The Last Airbender, which he would eventually dive into as the presentation continued.
Much of Yang's anecdotes stem from his upbringing as an Asian American, and contention with the traditional belief that someone from his background should be pursuing one of three "approved professions"—doctor, lawyer, engineer—and thinking more about their future. However, despite a history of comics handling Asian characters questionably—see classic "yellow peril" villains, heavily stereotyped Fu Manchu heroes, etc.—Yang cites the draw the industry and medium as a whole have had for Asian and Asian American creators.
From the format of comics themselves—amalgamations of words and pictures that harken back to the Chinese written language—to an industry almost entirely built on outsiders, comics and Asian Americans have been a natural fit. Where other cultures presented words and pictures separately, generally considering the combination of the two as "childish" or "low brow," Asia was different. A picture was not considered finished unless there was a poem to go along with it; the piece was not considered masterful unless both the image and the words were masterful. The modern American comics industry is one made up of very few gate keepers, constructed mostly on the backs of Jewish Americans. This industry of outsiders is something to which Asian Americans have been naturally drawn.
Yang went on to cite more reasons for the large number of Asian American creatives in comics, many of which he and his friends developed in a swirl of late-night industry talk and beer. One of the more current cultural trends Yang mentioned is the unavoidable influence of manga, which has allowed Asian American artists and writers to create their own voice through a stylistic blend of both American and Asian visual languages.
After some readings from his own works, like Prime Baby and Level Up, Yang explained how he came to be the writer for a project as large and—as he admits—intimidating as Avatar: The Last Airbender. Despite the fact that Avatar was the brainchild of two white creators, Bryan Konietzko and Michael Dante DiMartino, Yang believes the pair created "a show that was quintessentially Asian American because of the way [it] combines East and West." Once fellow cartoonist Derek Kirk Kim (Same Difference) introduced him to the show, he was hooked by the third or fourth episode, and had to agree that it was the best written American cartoon series.
What Yang did not agree on, like many others, was the way M. Night Shyamalan's 2010 live-action film was executed. Any initial excitement for seeing the world of The Last Airbender fully realized in live-action was dashed when the casting was announced, and Yang agrees that it was simply the latest example of "yellow face"—taking a role that would be best suited for an Asian person and giving it to a white person—in Hollywood.
In response, Yang addressed the issue, appropriately, via web comic, which garnered a more overwhelming reaction than he had anticipated. Eventually, after Dark Horse Comics acquired the rights to create The Last Airbender comics, an editor turned to Yang's work, attracted to both his previously released material, and his strong passion for the series. The task presented was monumental. Dark Horse was to fill the 70-year gap between Avatar: The Last Airbender and Legend of Korra, and while there were certain guidelines and signposts illuminated by the creators, Yang was given enough flexibility to implement some of his own ideas.
His original idea for the comic actually sounds like it would have been pretty incredible. The existence of the Fire Nation colonies gave him the idea to make what he called "an Avatar version of a Jet Li movie," like Tsui Hark's Once Upon a Time in China. He would have had Aang playing the role of the Jet Li-style character, teaming up with Earth Kingdom nationals and kicking out Fire Nation imperialists.
Two things kept Yang from going in that direction. Most importantly, he was writing in an established history carefully crafted by Konietzko, DiMartino, and a slew of talented writers. Also, colonialism is a complex thing, and this story would ultimately need to build toward and transition gracefully into Legend of Korra, the central city of which grew out of the colonies. So, how about a happy medium? Yang aimed to capture some of that complexity in the three 80-page volumes of "The Promise."
Of course, none of this would have gotten off the ground if it didn't have just the right style of art to complement Yang's extension of Airbender's story. That's where Gurihiru—a pair consisting of Sapporo-based female artists Sasaki (pencil and ink) and Kawano (colors)—came into play. The duo previously worked on some projects for Marvel, including Thor and Captain America graphic novels aimed at a younger audience, among other things. But as far as Yang is concerned, "The Promise" is the best work he's seen them produce to date.
After his presentation winded down, Yang fielded questions from a hungry crowd. Many were interested in his views on how to handle blending cultures in comics and animation, and his advice was straight to the point.
"Just do your homework," he said. "Humans are humans. There are core experiences that every single human who's ever been born is going to go through, and what you want to do is find a commonality there, and shoot it through the lens of a culture you may not be super familiar with from your own personal experience."
Beyond homework, and beyond agonizing over being 100% faithful to your subject matter, Yang adds, "Your goal is to create a believable world." This naturally came back to Konietzko and DiMartino's work on The Last Airbender, a series just as focused on world building as it is on its characters and the cultures they reflect.
Yang outlines why he thinks what they did worked so well. "They and their team did tons and tons of research," he said. "They approached the cultures very respectfully, and I think that comes out in the final comic, as well."
Another fan asked which of the characters was the toughest for him to pin down. "I had a tough time with Aang, to be honest," he admitted. "When I watched the show my favorite character was Zuko, because I thought he was the most complex, and then in writing, the easiest was Toph." After everyone had a good laugh, Yang expanded on his Aang thoughts.
"I feel like Aang had a complete and satisfying character arc within the original series," he said, "So trying to figure out how to continue his character arc was difficult." Thankfully, Yang had the assistance of Konietzko and DiMartino, a pair he considers to be "world class storytellers," close at hand.
While much of Yang's thoughts on comics, up to and including his work on The Last Airbender, center on the influence of Asian American culture, there's something for fans and eager creators from all walks of life to take away from it all. Strip away the cultural aspects for a moment and Yang is still another comics creator with a unique voice, who is fortunate enough to have a variety of means through which he is able to professionally project it.
In addition to the second and third books of "The Promise"—due out May and the end of the year, respectively—Gene Luen Yang is also working on a two-volume comic about the Boxer Rebellion. This raises one final question: does he feel an obligation to write about Asian/Asian American characters at all times?
"I dunno. I don't think I feel an obligation," he responded. "I feel like I can just tell whatever story I want to, but part of the reason I can do that is because I keep a semblance of a day job."
Dig into our "The Promise - Part One" review.
© 2012 Viacom International, Inc.
© 2012 Dark Horse Comics, Inc.