Strong technical skill and solid beats shine through forgettable material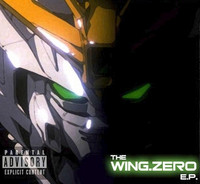 Nerds get creative--it's something that just happens. No matter the level of artist's skill, no matter how great they are (or aren't) at putting together a costume, nerds will always find some way to creatively express their passion and have fun doing it.
I don't know what a lot of anime fans' problem with rap is--maybe because it's something the cool kids listen to, or maybe because they just haven't had a chance to listen to right artists--in my experience, it's been difficult to get friends of mine into rap music. All in all, you could do a hell of a lot worse than nerdcore rapper Richie Branson, whose Gundam Wing tribute album The Wing Zero EP launches on March 20th.
The last pairing of anime and rap that I can recall was Soulja Boy's god-awful "Anime," where (despite Soulja Boy's honest love of anime) he literally just mumbles a list of titles and characters he likes to a ho-hum beat. The Wing Zero EP is far more focused, providing a great listening experience despite a few slip-ups along the way.
A free thirteen-track nerdcore hip-hop album, The Wing Zero EP has six GW-themed songs, the six instrumental versions of each song, and a bonus track titled "Last Communication," a preview from Branson's upcoming Project Epyon.
I already knew about Richie Branson from his Star Wars and Squaresoft rap, so I expected some pretty solid stuff with this album, and he didn't disappoint. Branson is thankfully not at all shy about his interests, so I wasn't that surprised when The Wing Zero EP's opening track, "After Colony 195," not only gives a quick reminder of Gundam Wing's setting and story, but then launches into just how much Branson loves Gundam Wing.
Then he does it again, in the second track. Then again in the third. I'm sorry, but when a song is titled "I Think I'm Heero Yuy," I'm expecting a song about shooting people and ripping up party invitations and blowing up your ride while sitting in it, not another song about how much you love Gundam Wing. If anything, the first three songs kind of blend together, to the point that their beats (which are pretty good) are lost while you ask yourself "didn't he just say this five minutes ago?"
Thankfully, Branson is a talented wordsmith with a lot of potential--his silky flow and punchy delivery stand out even when the lyrics feel uninspired. The album really hits its stride in its last three vocal tracks: "Merquise Dreams" retells the saga of series antagonist Zechs Merquise in a way reminiscient of a Protomen song, "The Real G-Unit" feels like a bouncy battle anthem (that also references other Gundam titles), and "Wing Memories" gives us a kind of history lesson about Branson's history with Gundam Wing--a nice endcap before we get to hear the vocal-less instrumental versions of the last six songs.
The last song on the album, "Last Communication," is probably my favorite track and will be getting regular rotation as part of my "work music." It gives me a lot of hope for Project Epyon--this is just an instrumental, so it makes me wonder how much of his talent and heart he's poured into the rhymes. It's easy to hear just how much fun he had making this album, and it's refreshing to see somebody geek out this much over something they love.
If nothing else, at least swing by Richie Branson's site on March 20th to download The Wing Zero EP because it's free. Take a half-hour out of your day to give the album a listen. It made me want to go turn on some Gundam Wing and relive one of my favorites from high school--maybe it'll do the same for you. One thing's for certain--I'll be listening to this while I write a Natestalgia on Gundam Wing.
The Wing Zero EP is available for free download on March 20th at richiebranson.com.