The summer of the Galaxy Express 999 movie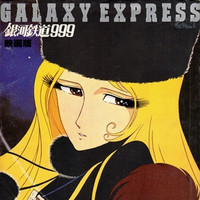 One of the oldest Japanese anime magazines in my bookshelves is Animage's 1979 August issue. Tokuma Shoten began publishing it in July 1978, so this was their 14th issue. It was the time before the words such as "Otaku" or "Moe" were born among the anime/manga community in Japan. The anime fans were simply called "Anime fan" those days.
Cover: Umi no Toriton (Triton of the Sea)
Based on a manga series by Osamu Tezuka (Astro Boy, Black Jack, Phoenix)
Produced by Yoshinobu Nishizaki (Space Battleship Yamato)
Directed by Yoshiyuki Tomino (Mobile Suit Gundam)
Illustration by Yukiyoshi Hane (character designer of the anime series)
Back cover: "Sppce Battleship Yamato 2" Plamodels ad

(second season of the Yamato television series)
Poster: Cyborg 002 (Jet Link) from "Cyborg 009"
(second season of the Cyborg 009 television series)
Illustration by Toyoo Ashida (character designer/animation director)
Anime movies &TV specials in the summer
Movie:
・The Galaxy Express 999
・Space Battleship Yamato Festival (1st & 2nd movie)
・Umi no Toriton (compilation film of the TV series )
・Ace o Nerae!/Aim for the Ace! (compilation film of the TV series )
・The Lord of the Rings (animation film by Ralph Bakshi)
・Hokkyoku no Muushika Miishika (Mushi Productions)
・A Midsummer Night's Dream (stop-motion puppet animation by Czech animator Jiri Trnka)
TV special:
・Yamato: The New Voyage (original television movie)
・Undersea Super Train: Marine Express (created by Osamu Tezuka and Tezuka Productions)
"Galaxy Express 999" Original Movie Flyer image
The movie was release in Japan on August 8, 1979. It made 16.5 billion yen and became the
highest-grossing film of the year in Japan.
Ads for the movie soundtrack LP&Compact Cassette and the theme song by GODIEGO
Tokuma shoten also published "Roman Album Deluxe 24: Galaxy Express 999" in the same summer.
"Galaxy Express 999" movie trailer

---
Archives:
FEATURE: Japanese Anime Magazine Retrospective: "OUT" in 1983
FEATURE: Japanese Anime Magazine Retrospective: "OUT" in 1984
FEATURE: Japanese Anime Magazine Retrospective: "OUT" in 1985
FEATURE: Japanese Anime Magazine Retrospective: "OUT" in 1986
FEATURE: Japanese Anime Magazine Retrospective: "OUT" in 1987
FEATURE: Japanese Anime Magazine Retrospective: "OUT" in 1988