Forecast: Cosplay, booth pics, and jet lag ahoy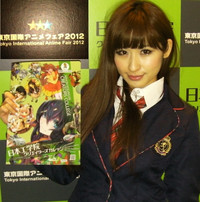 I'm jet lagged beyond all recognition. My brain feels like hollowed out guacamole. I can barely manage to type out these words without wanting to fall over sideways, but…OH, THE THINGS I HAVE SEEN!
Yesterday, 3/22, was the opening day of the Tokyo International Anime Fair, and fate saw fit to put me on a collision course with curious cartoon creatures, cosplaying cuties, and much more. Pics and proof below:
Behold, the dazzling opening ceremony where local mascots mingle with the likes of characters from Pre-Cure and Garo.
I'm not sure what these pandas wanted from me as they waddled into view, but I wasn't going to refuse them anything.
3/22 was Business Day, so stiff suits wandering around was the order of the day on the show floor… Although the forecast calls for screaming kids and mucho otaku at TAF for the remainder of the weekend. (Sunrise animation booth pictured)
Sometimes, there's not much to do at TAF except take pictures of the "booth babes" -- a term used rather too freely in some cases when it's just a girl in a wig. Pic taken outside the Bushiroad booth, home of much Cardfight!! Vanguard.
Tohokushinsha film threw down an entire museum of props and costumes from the live-action TV superhero show GARO, for which I was grateful.
Meanwhile, Nippon Television Network spared no expense with these cardboard cut outs of karuta playing characters from Chihayafuru...
And Lupin III...
There wasn't much in the way of wild collectable figure action at TAF, but the Good Smile Company booth offered some thrills.
One item on display was this super nice Vocaloid Luka figure, on sale in a few weeks.
Speaking of which, a few Vocaloid cosplayers were hanging out at the Yamaha booth, plugging both VOCALOID 3 and the intriguingly-named "JAPANJACK PROJECT"...
Tiger & Bunny merchandise mania was out in full force at the Sunrise booth, probably in anticipation of the upcoming feature film.
I want to put on that Wild Tiger rubber mask and run around Japan fighting crime.
Some people dream of cosplay wigs, and at least one vendor of some such items had found themselves inside of TAF.
Some of you super-dedicated Crunchy News readers may remember our story about the Kyary Pamyu Pamyu x Mameshiba tie-up (AKA MameshiPamyuPamyu). Dentsu had a space at their booth devoted to the goods along with a signed pic of Pamyu Pamyu herself.
There's really no way to end a post like this, except to say that I found this old thing just hanging out at the Nihon Kogakuin College booth and that I'm headed back to TAF for more madness on 3/24. Wish me luck until then!
-------
Patrick Macias is editor in chief of Crunchyroll News. He also runs the Japanese Fashion Inferno tumblr blog. Follow him on twitter at @Patrick_Macias.