17 PreCure girls dance on stage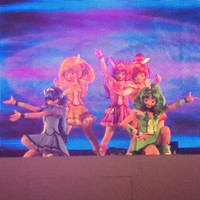 Grand Prince Hotel New Takanawa in Tokyo has held a live show event called "Hero Live Special" featuring Toei's anime and tokusatsu heroes/heroines every year during Golden Week (usually on May 3-5). The visitors could enjoy their live performance on stage, handshake and photo session with them. This year they presented the two part shows, the first part featuring PreCure Allstars (17 of them, no PreCure girls from the first three series) and the second featuring the tokusatsu heroes including Kamen Riders and Super Sentai. Fortunately, taking photos of the stage was allowed by the event organizer. Here's a photo collection of the PreCure Allstars show for you.
The flyer of the event
The main banqueting hall where the show was held
Let's the show begin!
Fresh PreCure! team (Cure Berry, Cure Passion, Cure Peach, Cure Pine)
Heartcatch PreCure! team (Cure Moonlight, Cure Marine, Cure Blossom, Cure Sunshine)
Suite PreCure♪ team (Cure Beat, Cure Melody, Cure Rhythm, Cure Muse)
Smile PreCure! team (Cure Beauty, Cure Peace, Cure Happy, Cure Sunny, Cure March)
Handshake session with the Smile and Fresh team
Photo session with the Heartcatch and Suite team