Released today for iPad/iPhone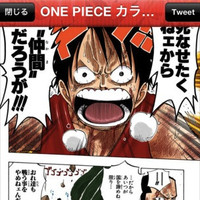 Today in Japan, Shueisha released an iPhone/iPad digital platform for reading Jump manga. Called Jump Book Store, the free-to-download app currently boasts over a thousand volumes of One Piece, Naruto, Bleach, and other Jump favorites. You guys might be getting used to reading digital manga from Viz or other publishers, but this app is a huge leap for the medium in its home country.
*All screenshots taken from my iPhone 4S except header image, which is via the iTunes page.
In addition to collected volumes, Shueisha is also selling the seasonally published Jump NEXT featuring one-shots from new artists and other special comics. The digital version unlocks bonus free chapters. I went ahead and picked it up for 350 yen (about US $4.44) to get something on my bookshelf:
Another feature of the app is free browsing for the first chapter from the latest issue of Jump comics publications. I checked out Toriko:
Here is what the purchase page looks like. Most titles seem to be either 350 or 450 yen (~$4.44-5.71):
The "tachiyomi" button (in grey) gives you a preview of the first five pages of the volume—mostly title and contents.
Starting next Monday, users will be able to see what the top weekly downloads are:
The iTunes page actually lists top "add-ons" already. So far Jump NEXT is on top followed by One Piece 1 and To Love-Ru Darkness in color.
The thing to keep in mind is that this is obviously not even close to their full catalog, and some of the omissions might be frustrating. For instance, while Dragon Ball is there (and Dr. Slump!), Fist of the North Star is not; however, since you can browse by title, author, or year, it's pretty easy to find something you're interested in after discovering the current limitations of the library.
Tilting horizontally allows you to see two pages at once, but you'll definitely need to zoom on a phone. Page from Jump NEXT AUTUMN.
Reading on the iPhone is a little taxing on the eyes. You can double tap an area of the image to zoom, but it doesn't scale the image, so everything blurs a bit. It's a little weird that they don't scale, because Viz's app actually does to a point.
That said, if you want to talk about differences between the services, the biggest one is that this platform does not offer a subscription to the magazines themselves, whereas Viz is almost ready to unleash simultaneous Shonen Jump Alpha. So far the platform just covers collected volumes (including some all-color editions) of some titles, special issues, and previews of currently on sale mags—at least at this point.
User reviews so far complain about pricing and some UI issues (although I was able to use the notification center just fine, so some of them might not be on the ball). When connected to wi-fi I didn't think the downloads were very slow, but maybe on 3G it's a bit of a slog...
All minor issues withstanding, this is basically the first big move towards concentrated digital manga sales from a major publisher in Japan. Would you be downloading if you were here?