Fate/Zero, The [email protected], Nisemonogatari, Tari Tari, and more!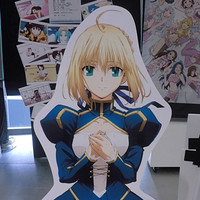 Tokyo Anime Center in the Akihabara UDX building is a permanent facility created to promote Japanese anime to the world. It is now holding a special exhibition called "Newtype x Machiasobi Anime Award Daikanshasai (Great Thanksgiving Festival)" to introduce popular anime titles which were featured at the last Machiasobi anime event (September 22nd-October 8th) in Tokushima-city. At the 9th Machiasobi event, Newtype, one of the popular Japanese anime magazines, announced the winners of "Newtype Anime Award 2012" which were selected by the votes of the fans. You can watch the award ceremony on the video monitors and also check the panels and character goods of the winners at the exhibition.
*all of the photos were taken by Mikikazu Komatsu with the organizer's permission
Each monitors showing various anime series
The entrance
Saber and Haruka welcome you!
Newtype Anime Award winners (anime series): 1. Fate/Zero 2. The [email protected] 3. Nisemonogatari
Fate/Zero flag and scene panels
Fate/Zero goods
The [email protected] flag and scene panels
The [email protected] key animation original arts and AR scripts
Nisemonogatari flag and scene panels
Tari Tari flag and scene panels
Tokyo Anime Center limited goods: The [email protected], TALES OF XILLIA, and Fate/Zero tumblers
Character goods section
Mawaru Penguin Drum
Strike Witches
Haiyore! Nyaruko-san
Nisemonogatari
Hyouka
Fate/Zero
Newtype magazine cover collection