Love Live!, Tamako Market, Vividred Operation, Maoyu, and more!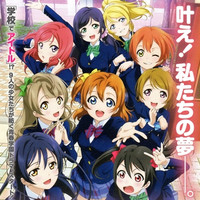 In addition to being photographed, another important job for the cosplayers at the industry booths in Comic Market/Comiket 83 is to hand out the promotional flyers and freebies to the otaku visitors. We can receive posters, post cards, stickers, and even a free DVD which includes anime episodes. Which new anime do you love to see the most?
Related:
FEATURE: Comic Market 83 Industry Booths Photo Report
FEATURE: Comic Market 83 Industry Booth Cosplayers
Comic Market 83 industry booths section entrance
"Love Live! School Idol Project" (January 6, 2013)
 Crunchyroll to Stream "Love Live! School Idol Project" Anime
© Project Love Live!
"GJ-bu" (January 9, 2013)

© Shin Araki・Shogakukan/GJ-bu Hogoshakai
"Tamako Market" post card (January 9, 2013)

© Kyoyo Animation/Usagiyama Shoutengai
"Minami-ke Tadaima" (January 5, 2013)

© Koharu Sakuraba/Kodansha/Minami-ke Tadaima production committee
© King Records
Free version of Dengeki G's Magazine featuring "Vividred Operation" (January 10, 2013)
© vividred/MBS
"MAOYU: MaouYusha" (January 4, 2013)
© Touno Mamare/PUBLISHED BY ENTERBRAIN,INC./Project MAOYU
"Hakkenden: Touhou Hakken Ibun" (January 5, 2013)
© Miyuki Abe/Kadokawa Shoten/Hakkenden Project

"Chihayafuru 2" (January 11, 2013)
© Yuki Suetsugu/Kodansha/VAP/NTV
"The Unlimited - Hyoubu Kyousuke"  (January 7, 2013)
"Hayate the Combat Butler 4th season" (April, 2013)
"The World God Only Knows 3rd season" & "Kanon Nakagawa OVA"
© Takashi Shiina/Shogakukan/Unlimited Partners/TV Tokyo
© Kenjiro Hata/Shogakukan/HAYATE PROJECT
© Tamiki Wakaki/Shogakukan/Otoshigamikaketamatai/TV Tokyo
"Yuyushiki" post card (April, 2013)

© Komata Mikami/Houbunsha
"Yahari Ore no Seishun Love Come wa Machigatteiru." (April, 2013)
© Wataru Watari/Shogakukan/Yahari Kono seisakuiinkai wa Machgatteiru
"A Certain Scientific Railgun S" post card (2013)
© Kazuma Kamachi/Motoi Fuyukawa/Ascii Media Works/PROJECT-RAILGUN
© prismnana
"Danganronpa Kibou no Gakuen to Zetsubouno Kokousei The Animation" sticker (2013)
© Spike Chunsoft Co., Ltd./Kobougaoka Gakuen Eizoubu
"Hataraku Maou-sama!" (April, 2013)
© Satoshi Wagahara/Ascii Media Works/HM Project
"HELLSING X" post card (December 26, 2012)
© Kouta Hirano/Shonegahousha/WILD GEESE
"Aura: Maryuinkouga Saigo no Tatakai" (April 13, 2013)
© Romeo Tanaka/Shogakukan/AURA FILM PARTNERS
"Majokko Shimai no Yoyo to Nene" (2013)
© Monogatari Kankyo Kaihatsu/Tokuma Shoten/Majokko Shimai no Yoyo to Nene Production Committee
"Hakuouki: The Movie" post card (2013)

© IF・DF/Hakuouki Production Committee
"Little Busters!" promotion DVD (Episode 1-6 digest & CMs)
© VisualArt's/Team Little Busters!