Kaga Yuzen hosted a lolita fashion contest using their well known patterns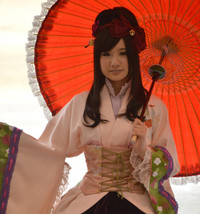 Kaga Yuzen is one of the most recognized patterns in the design of kimonos with a history of over 300 years. It originated in Ishikawa prefecture and is famous for it's unique shading method and designs that depict the natural beauty of flowers, birds and landscapes. However, just like any other traditional crafts in Japan, it is struggling to gain the interest of the younger generation and also struggling to secure successors to continue with the craft.
As part of the effort to rejuvinate Kaga Yuzen, local businesses hosted a lolita fashion show using the winning designs from Kaga Yuzen and Lolita Fashion contest held last year. The collaborated designs are called "Kaga-Loli". The event consisted of 4 segments, 3 runway shows of Kaga Yuzen Kimono, BABY, THE STARS SHINE BRIGHT Spring Collection, Kaga-Loli design contest winners and a talk show featuring popular Lolita model Fukasawa Midori, who wore the winning design of the contest.
1. Kaga Yuzen Kimono
2. BABY, THE STARS SHINE BRIGHT Spring Collection
All 5 Spring designs with BABY designer on stage.
3. Kaga-Loli Design Contest Showcase
The event mascot, "You chama" was designed by a local college student. She is wearing her own design as a model.
Gorgeous design!!
Honorable Mention: Classic Lolita Kaga Yuzen
Winner's design drawing
Runner Up: Classic Lolita with tradition and class
This design incorprates the family mark of the local Maeda clan with embroidery and features the red with an impression of Wajima-nuri, another traditional craft.
Design drawing
Grand Winner: Kaga x Rose x Girl
Modeled by Fukasawa Midori
Design drawing
The contest winner is a sophmore at a local high school. She received a hand-made dress of her design made by a notable Kaga Yuzen manufacturer. It must have cost a fortune!
To see all 140 pictures from the event in the original article, click here.
© Copyright 2012-2013 - iHokuriku i北陸