Performs tonight at Club Nokia in LA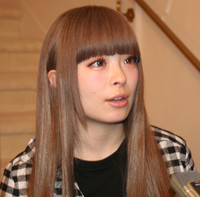 Harajuku's kawaii ambassador Kyary Pamyu Pamyu is currently on the run in the USA as part of her ongoing world tour and performs tonight at Club Nokia in LA. As part of her duties, the PON PON PON one was the guest of honor last night at a "Cool Japan" reception held at the ritzy residence of the Consul General of Japan in Los Angeles.
I don't even know how to explain what's going on here...
After much speech making by local politicians, Japanese government figures, and a media feeding frenzy, I managed to get a quick one-on-one interview with Kyary. This is actually the second time I've interviewed her (the first was on my old Otaku Verse-Zero show), but it's always a surreal thrill to exchange words with her.
Crunchyroll: Now that you are on your world tour, how would you describe your fans around the globe? What kind of people are they?
Kyary Pamyu Payu: I think they are really fashionable girls all around the world who really like Harajuku.
What are some of the most memorable things that have happened on your world tour so far?
Just before every gig, the audience all chants "Kyary! Kyary! Kyary!" and that's the most memorable thing for me at the moment.
How does it feel personally when you hear that sound?
I get a lot of energy from it and it makes me want to go for it.
What's in the future for you later this year?
This year, after this world tour, I'll be working on a lot of songs. After that, hopefully I'll do another world tour.
Do you have a message for your fans around the world?
I'd like to do a 2nd and 3rd world tour and continue to be a performing artist so please everyone, support me!
And then she gave me her business card…
If I had more time, I would have liked to ask her more about making the tricky transition from global YouTube sensation to government sponsored "Cool Japan" spokesperson, but her dance card was full.
Anyway, maybe more insights will be had at tonight's concert. Anyone going, or to her show in New York City on Sunday night?
BONUS! The latest "Fashionable Invader" CM from Kyary and GU, set in LA of all places!
--------
Patrick Macias is editor in chief of Crunchyroll News. He also runs the Japanese Fashion Inferno tumblr blog. Follow him on twitter at @Patrick_Macias.