Who is your most favorite cosplayer?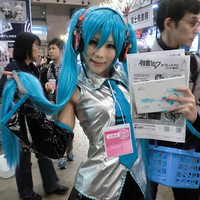 Following the success of their first event last year, Dwango is now holding the second Nico Nico Chokaigi at Makuhari Messe in Chiba Prefecture on April 27th and 28th. "Chokaigi" is translated as super conference. The two days event covers numerous kinds of entertainment genre including game, music, dance, cosplay, art, food, gamble, millitary, basically anything Nico Nico Douga viewers may be interested in. Just as last year, the concept of the event is "reproducing (almost) everything in Nico Nico Douga in real world." Like other otaku-ish events in Japan, I was able to find many cosplayers at the industry booths. Check the photo collection below!
*all of the photos were taken by Mikikazu Komatsu with the cosplayers' permission

Giant ad near the entrance
The people were dancing to a famous Nico Nico song
Nico Nico shrine
The flower from GACKT
The flower from Iron Man. ...Really?