Life-size character display, anime scene panels, illustrations, figures, and more!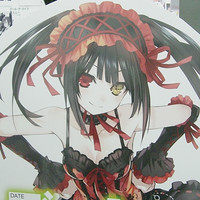 Since it's Golden Week in Japan, this weekend is one of the busiest season for the major anime/manga/game specialized stores in the Akihabara town, especially for Gamers' Akihabara main store which is holding three special exhibitions at the same time. Right now they have "NANA MIZUKI LIVE GRACE -OPUSII-×UNION Costume Exhibition 2013" on the 5th floor, "D.C. ~Da Capo~ Museum" on the 6th, and "Date A Live Museum" on the 7th. Unfortunately due to copyright restriction, no photography was allowed at the Nana Mizuki exhibition except a Nana-san's life-size panel which you could take a photo of yourself with her. Today I post a photo report on "Date A Live Museum" and will post a "D.C. ~Da Capo~ Museum" report tomorrow.
Date A Live is a fantastic love comedy light novel series written by Koshi Tachibana and illustrated by Tsunako. So far seven volumes were published by Fujimi Shobou's Fujimi Fantastic Bunko label in Japan.
The TV anime adaptation of the novel directed by Keitaro Motonaga (Katanagatari, Jormungand, Majestic Prince)
is now broadcasted on Tokyo MX and other local stations in Japan.
*all of the photos were taken by Mikikazu Komatsu with the store's permission
The latest Akihabara reports (more coming!)
FEATURE: Anime/Game Street Ads in Akihabara: April 2013
FEATURE: "Oreimo" Exhibition at Tokyo Anime Center in Akihabara
FEATURE: "A Certain Scientific Railgun S Only Shop" at Animate Akihabara Store
Gamers Akihabara main store
The event poster
Just like Animate, the elevator in the Gamers store is decorated with the anime illustration
"Date A Live Museum" entrance
Life-size character display
Anime scene panels
Illustrations for anime magazines and other media
Character T-shirts
Theme song CDs
The original novel series
Comicarizations: Date A Live, Date a Strike, Date A Origami
Clear files
Tohka Yatogami figure
Tohka Yatogami puchi figure for the 6th volume of the novel
---
"NANA MIZUKI LIVE GRACE -OPUSII-×UNION Costume Exhibition 2013" entrance
Nana-san's life-size panel
The inside of the elevator was also decorated with Nana-san's photo