Yamato 2199, Fate/Zero, Steins;Gate, Nanoha, The [email protected], and more!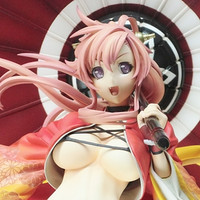 Megahobby Expo 2013 Spring was held at Akiba Square on the second floor of the Akihabara UDX building on May 25th. The biannual exhibition was hosted by Megahouse, one of the major character toy/figure companies in Japan, with the support of ALTER, Hobby Japan, nitro+, Kotobukiya, Yoyogi Animation Gakuin, Animage, and Revolve. A wide range of their newest products such as character/mecha figures, toys, and accessories were on display and the crowded fans enjoyed the first time opportunity. In this first part of my reports, I post the photos of the popular anime/manga/game girls figures mainly. Who is your favorite girl? In the second part, I will introduce the photos of the toys from the popular Shonen Jump series, such as Naruto, One Piece, Yu-Gi-Oh!, and Gintama.
* all of the photos were taken by Mikikazu Komatsu with the organizer's permission
Akihabara UDX
The Akiba Square entrance
The posters on the south side of the exhibition room
The inside of Megahobby Expo
The companies supported the event
The map
Megahouse's Yamato Girls Collection from Space Battleship Yamato 2199
Yuki Mori Ship Uniform ver.
Rei Yamamoto Pilot Suit Ver.
Yuria Misaki Ship Uniform ver.
High Priestess P4U - Labrys (Megahouse)
Excellent Model Core Queens Blade Grimoire P-1 - Alicia (Megahouse)
Excellent Model Aquarion EVOL - Crea Dolosera (Megahouse)
Excellent Model Chosoku Henkei Gyrozetter - Rinne Inaba (Megahouse: October 2013)
Excellent Model Chosoku Henkei Gyrozetter - Rui Akana (Megahouse: October 2013)
Excellent Model RAHDX G.A. NEO Lacus Clyne from Mobile Suit Gundam SEED (Megahouse)
Petit Chara! Series Smile PreCure! - (Megahouse: September 2013)
Tales of Xillia 2 - Plushie: Itsudemo Milla (ALTER: July 2013)
Tales of Vesperia - Estellise Sidos Heurassein (ALTER: September 2013)
Fate/Zero -Waver Velvet (ALTER: after June 2013)
Steins;Gate - Suzuha Amane & Mountain Bike (ALTER: after June 2013)
Shining Blade - Misty (ALTER: after June 2013)
Fate/hollow ataraxia - Saber Alter swimsuit ver. (ALTER: October 2013)
Ano Natsu de Matteru/Waiting in the Summer - Kanna Tanigawa (ALTER: 2013)
Magical Girl Lyrical Nanoha the Movie 1st - Nanoha Takamachi swimsuit ver. (ALTER: after June 2013)
Magical Girl Lyrical Nanoha ViVid - Einhart Stratos (ALTER: September 2013)
Hyouka - Eru Chitanda (ALTER: August 2013)
Sword Art Online - Suguha Kirigaya (ALTER: 2013)
Hyakka Ryoran: Samurai Girls - Keiji Maeda (ALTER/Hobby Japan: October-November 2013)
Strike Witches 2 - Hanna-Justina Marseille (ALTER: May 2013)
MAOYU - Demon Queen Kogyoku no Hitomi (Kotobukiya: October 2013)
Horizon in the Middle of Nowhere - Futayo Honda (Kotobukiya: Autumn 2013)
Muv-Luv Alternative - Meiya Mitsurugi (Kotobukiya: October 2013)
Kotobukiya's Cu-poche series
Megahouse's The [email protected] collection