Anime scene panels, character references, character goods, and more!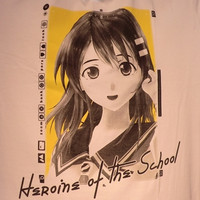 Following very successful Ore no Imouto ga Konna ni Kawaii Wake ga Nai. exhibition which we reported in April, Tokyo Anime Center in the Akihabara UDX building is now featuring another popular 2013 Spring TV anime series, Photo Kano, from May 21st to June 9th. As always, the visitors can enjoy to see so many anime scene panels, character references, and various kinds of goods featuring the Photo Kano heroines. Let's check it out!
The TV anime Photo Kano is now available to Crunchyroll's audience in United States, Canada, Australia, New Zealand, South Africa, Finland, Norway, Sweden, and Denmark.
*all of the photos were taken by Mikikazu Komatsu with TAC's permission
The Akihabara UDX building
Anime scene panels
From Ep.1
From Ep.2
From Ep.3
From Ep.4
From Ep.5
Key animation arts
Character references
Character goods section
Haruka Niimi T-shirt
Hikari Sanehara T-shirt
Nonoka Masaki T-shirt
Rina Yunoki & Mai Sakura T-shirts
Tissue box covers
Straps
Mugs
Comics, novels, and magazines