Hatsune Miku, Super Sentai, Kamen Rider, Sushi Racers and more!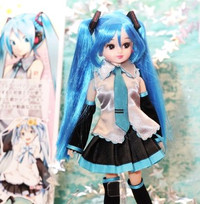 Tokyo Toy Show 2013 – Japanese Toys are Serious Business
The International Tokyo Toy Fair was held at Tokyo Big Sight on was held from June 13th to 16th. This is the big industry toy show for Japan, and it is always interesting to see the trends and new products that are emerging in the market. Being Japan, Characters play a big part in the show, the usual suspects from TV, anime and manga are present – Ultraman, Pretty Cure, Anpanman, One Piece and many many more. However it is very interesting how there has been a trend to dig into stranger sources for new character ideas. Yuru-chara and Local Heros, which are the promotional characters for various cities and regions across Japan, have proven to be very popular. Also the original characters from Mobile Applications like LINE and Mobile Games like Puzzles & Dragons have made the jump into new toy product lines. One of the funnest things for me about Toy show are some of the innovative applications of character designs to unexpected products – a Sailor Moon cosmetics line, Bikkuriman iPhone covers, the Toyota Gundam concept car.
Technologically advanced Smart Phone style toys for boys and girls that feature Games, Messaging, and many more "Apps" were everywhere. Miniaturization was another trend – the Nano Copter – recognized by Guinness as the worlds smallest remote control helicopter; Nanoblocks – miniature Lego-like building blocks; even scaled-down realistic construction vehicle riding toys. While Japan is well-known for realistic plastic food for restaurant displays, surprisingly there are now many toys and games that incorporate Hyper-realistic food. There was an abundance of non-digital physical games including a surprising number of skill games involving chopsticks. At the other end of the spectrum there were some amazingly complex gaming systems like Bandai's Buttoburst involving physical toys, collectable cards, and arcade machines.
There was so much to take in at the Toy Fair, from innovative capsule toys to the truly bizarre and weird, but since I am a big fan of the Tokusatstu (live-action superhero) shows, my first stop at the show was Planet Bandai – home to Ultraman, Kamen Rider, and the Super Sentai (Power Rangers). 
Links:
INTERNATIONAL TOKYO TOY SHOW
Recommended Articles
International Tokyo Toy Show 2012 Report