The up and coming band talks about their first live show and their experience at FanimeCon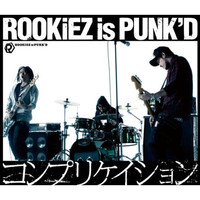 On Memorial Day weekend, FanimeCon took over the city of San Jose in California and brought lots of excitement to local anime fans who attended. I was able to have an interview with one of the Guests of Honor, ROOKiEZ is PUNK'D who packed and rocked the San Jose Civic Auditorium on Saturday night. They are a 4 man Alternative rock band who is best known among anime fans for their debut single, "Complication" (Durarara! anime opening theme) and "IN MY WORLD" (Blue Exorcist anime opening theme).
ROOKiEZ is PUNK'D are:
(From left) Vocal / Guitar: SHiNNOSUKE, Guitar / Chorus: TAKUMi, Drums / Chorus: U, Bass / Chorus: 2RASH
--- Great show last night! How was your first live show in the US?
SHiNNOSUKE: The response from the audience was great, it's different from that in Japan and it's big. We haven't done too many shows with seats, and I was wondering if they could jump even though I told them to jump. And they did, that was great.
2RASH : Even the people on the second floor were jumping!
SHiNNOSUKE: I was really happy to see that.
--- How was emceeing in English?
SHiNNOSUKE: Not that I can speak English.
(all laugh)
--- I thought the audience responded really well with your English emceeing. You also incorporated the Black Eyed Peas' "I Gotta Feeling" in one of the songs. Do you do that all the time or was it a special arrangement for the US show?
SHiNNOSUKE: We did it especially for FanimeCon. We were thinking the most the audience would know of our songs would be 2 or 3 songs, so we wanted to do something about that. We felt like we should do a song that people here are more familiar with that we also like, and that's how we did it.
TAKUMi: The audience responded loudly. They were all singing.
---I heard you guys said that it was your dream to do a show in US.
SHiNNOSUKE: It's true. The United States, especially California has many bands that we love, and we were sure to visit some day, but we were able to not only come to visit, but also were able to do a show. I really wanted to come here. This makes me really happy.
U: This is my first time out of Japan and I never thought that it would be for doing a show. I almost believed that I would never leave Japan. So to prove my point, I requested for a passport that is good for 10 years (instead of 5 years).
SHiNNOSUKE: What point are you trying to prove? (LOL)
U: I would love to come back next year as well.
---In fact, FLOW, past musical guest at FanimeCon was invited two years in a row.
SHiNNOSUKE: We actually asked FLOW about their experience before we came. They said it's an awesome event and they gave us lots of advice.
---How is your impression of FanimeCon so far?
SHiNNOSUKE: I am glad that my first US con experience was Fanime. The Fanime staff are all nice and kind and they take care of us really well.
2RASH: I felt like we (the band and the staff) became a team.
SHiNNOSUKE: I agree. We came up with the idea of using an image (of Kida Masaomi from Durarara!) in the live show pretty late, like the day before the show.
2RASH: More like the night before the show.
U: Very last minute.
SHiNNOSUKE: We were going to use it as special effects during the show, but the idea of making it into a video came later.
2RASH: That was an idea that just came up.
SHiNNOSUKE: We didn't think of putting subtitles on it, but when we brought it up with the staff, they acted really quickly to help.
2RASH: It took them until the morning.
SHiNNOSUKE: I felt like we fought as a team.
U: It definitely was not just us.
2RASH: Chris (one of the staff) was right in front at the show to get the audience excited.
U: He was a performer.
2RASH: He is our 5th member.
(all laugh)
SHiNNOSUKE: We all worked together and I am really happy with the result, which was the awesome show we had last night.
---The video of Kida Masaomi as a special guest during the show was a nice touch.
2RASH: That's the idea that came up the day before.
SHiNNOSUKE: The Fanime Staff helped us make the video and subtitles.
---Your debut single "Complication" was the opening theme for Durarara! which is very popular here as well. Have you watched the anime?
SHiNNOSUKE: Of course. It's actually my first anime, well I grew up with SLAM DUNK and Dragonball, but it was the first anime for anime fans that I watched and I thought it was really interesting. Now I buy all of the Durarara! light-novels and read them.
---To open the show last night, I heard (Blue Exorcist's) Yukio's line. Was it SHiNNOSUKE reciting the line?
SHiNNOSUKE: That was special effects.
2RASH: That was the voice of Yukio's voice actor (Fukuyama Jun).
SHiNNOSUKE: It was included in....which one?
U: It's in "IN MY WORLD".
2RASH: It's included in the Blue Exorcist Edition of the album. It's the voice of the voice actor.
---Oh I see! I thought it was done by SHiNNOSUKE.
SHiNNOSUKE: If I was capable of doing that, I would have been doing that everywhere.
(all laugh)
---That would have been very impressive.
SHiNNOSUKE: Actually, I did it.
(all laugh)
---I heard you guys talked about it while emceeing, but are you enjoying the con?
SHiNNOSUKE: Oh yeah. We are taking lots of photos.
U: There are so many of my favorite characters walking around. I spotted Cloud from Final Fantasy. He is one of my favorite.
2RASH: What about Asuka?
U: Oh yeah, Asuka! I have her T-shirt!
SHiNNOSUKE: He was wearing his Asuka Langley T-shirt yesterday. He is the biggest anime fan in the band.
U: Yes, I am. I like moe anime, too. I'm fitting in just fine (at the con).
SHiNNOSUKE: We crashed the Karaoke room last night and I sung karaoke.
2RASH: It's "Utattemita" by the actual singer with air guitar.
TAKUMi: There was no drummer, so Chris (staff member) helped with air drumming.
SHiNNOSUKE: I don't remember much because I was drunk.
2RASH: Are we enjoying the con? I don't want to go home.
U: We really don't want to leave.
Come back tomorrow for more of the ROOKiEZ is PUNK'D interview with more gorgeous live shots of the band by Yoshi Sawa! Did you get to go to their show or even meet them in person at Fanime? Leave comments even if you missed it and wished you were there!
Download ROOKiEZ is PUNK'D music on iTunes
Photo credit: Yoshi Sawa c/o Bunka:EXTEND