Signing at Kinokuniya Book Store in San Francisco Sat/10 3PM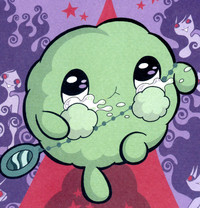 Junko Mizuno is an artist who infuses her stunningly original and description-defying vision through a wide variety of media including painting, illustration, and toy design. But, as Junko herself points out in this interview, making comics is at the core of her creative output. The second volume of her series Little Fluffy Gigolo Pelu (originally published in Japan in Comic Beam magazine and localized into English by Last Gasp and my company JaPRESS) went on sale earlier this summer, and this weekend on Sat/10, Junko will be signing copies and doing personalized sketches at the Kinokuniya Book Store at San Francisco's Japan Center. We took this opportunity to ask her about manga, Japan, and how she came up with the idea of a space alien who looks like someone's guts...
Crunchyroll News: How would you describe Little Fluffy Gigolo Pelu to someone who hasn't encountered this manga or this character before?
Junko Mizuno: It's a story about a space alien's organ named Pelu that comes to the earth and tries to find a bride to make babies with.
Can you tell us some highlights of what happens in volume 2?
It's hard to describe the highlights without being a spoiler so I can just say that Pelu loses two important things in life in this volume.
Where did the inspiration for the character of Pelu and the story originally come from?
I don't remember the title but I saw an episode of this animation on Nickelodeon where the main character goes to an amusement park with his own organ. That's where I got the idea of making an organ a character. The look of Pelu was inspired by Fujiko F. Fujio's manga character Mojako and a vintage plush bear I had at the time. The pattern of Pelu falling in love and getting turned down over and over is from the movie series Otoko wa Tsurai yo (AKA Tora-san).
What genre do you think the story is? Is it a comedy? Soap opera? SF story?
I basically don't think about putting my work into a certain genre. It's a mix of comedy, soap opera, SF, fantasy and different things.
How was this manga actually made? What was your living condition and state of mind like?
It was made in my late 20s - early 30s as my first serial comic in a monthly manga magazine. I remember I was really nervous what the readers of the magazine thought about me. Also, finishing an episode a month was really, really hard while I had so many other jobs. It was definitely the busiest and exhausting time of my life.
You work in a wide range of media, such as painting and figures…what are your thoughts on making manga? Why do you make it?
Making comics was the first thing I got into and I already wanted to be a manga artist when I was 3 or 4 years old so it's always been my base. Comics are important because it keeps me challenging. There's a lot of freedom in painting and drawing whatever I want to, which is great. But when I do comics, sometimes I have to force myself to draw something I've never even tried to tell the story. It improves my skills and what I learned in comic can be used in paintings, toy designs and other jobs. Making comics is fun but also a good training for me.
A lot of the situations in Little Fluffy Gigolo Pelu seem unique to Japan, like department store idol singers and matsuri festivals. Can you talk about how Japanese culture influenced this manga?
Before Pelu, my stories were always set in fantasy worlds, so I wanted to try making a story about Japan. I never mentioned exact time period in the story, but the image I had in mind was the '70s and early '80s Tokyo where I was born and grew up. Some episodes and scenes in Pelu were inspired by cheezy TV shows, popular music and actual events from that era.
You've been living in San Francisco for a few years now. Has that experience changed your art and storytelling at all?
I haven't done any long form comics since I moved here, but it has changed my art style a lot. It feels like I have more freedom here and I find myself caring less about making women in my art look "cute" in Japanese way.
Do you think we will ever get to see a Little Fluffy Gigolo Pelu Vol. 3?
Vol.3 is already out in Japan. Of course, there should be the English edition if Vol.2 goes well. I really want to make it. Please recommend these book to your friends and spread the word!
What else are you currently working on now?
I'm working hard for my next art show that starts on September 21st at Gallery Nucleus in Alhambra. It's a Japan-themed show and I'm doing paintings about Japanese cursing rituals, fishing vessels, female deities and monsters.
What are you interested in right now (movies, music, manga, food, TV, anything)?
I'm really, really busy so eating and sleeping are the only things I care about now!
--------
Patrick Macias is editor in chief of Crunchyroll News. He also runs the Japanese Fashion Inferno tumblr blog. Follow him on twitter at @Patrick_Macias.