Check out the fall line-up from a decade ago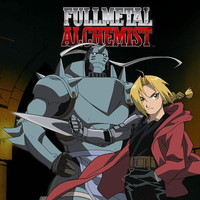 Anime was riding high in 2003. The number of TV productions was seeing a steep incline. Dentsu was buying Pioneer, gearing up to transform their North American operations into Geneon. Cartoon Network was experimenting with their Toonami line-up, with programming like Giant Robot Week. A decade ago, that fall season yielded some enduring classics, some forgotten work and some never well know curiosities.
Check out its line-up:
Ai Yori Aoshi Enishi
The second adaptation of Kou Fumizuki's seinen harem comedy
Battle Programmer Shirase
A series of half-lengthed episodes about a freelance programmer/computer security expert/hacker. Notable for ending with an apology to Japanese TV and fansub watchers, addressing, "those who enjoy the show on TV, and to those outside the broadcast area who took special measures to watch the show on their PC monitors, and to everyone who watched it subtitled overseas without permission."
Avenger
Produced by Bandai Visual, Bee Train and Xebec, and directed by Koichi Mashimo. It is set on post-apocalyptic colonized Mars.
The music for Avenger was composed and performed by Japanese duo Ali Project. Released in North America by Bandai.
Bobobo-bo Bo-bobo
Toei's adaptation of Yoshio Sawai's Shonen Jump manga, mixing manzai humor with lots of absurdity. It aired on Cartoon Network in the US and Jetix in Canada. Also has the distinction of being released by Illumitoon Entertainment. It has later released by S'more Entertainment, which failed to include an English subtitle track despite listings and packaging saying that it would.
Bottle Fairies
A series of shorts about four fairies misinterpreting the world around them as they learn about Japanese culture and traditions, with each episode taking place in a different month. Released in North America by Geneon.
Chrono Crusade
Gonzo's adaptation of the Daisuke Moriyama manga, set in New York during the 1920s, following Order of Magdalene exorcist Rosette Christopher, and her demon partner Chrono.
Released by ADV, then FUNimation. It also aired on Showtime Beyond and Syfy.
Cromartie High School
Adaptation of Eiji Nonaka's absurd yanki/delinquent parody manga. Released in North America by ADV, who also released an abbreviated run of the manga.
F-Zero Falcon Densetsu
A 51-episode anime series by Ashi Productions based on the video game series. 4Kids Entertainment licensed and heavily modified the anime series for North American broadcast. Thirteen episodes of GP Legend aired on the FoxBox channel in the United States before its cancellation.
Full-Blast Science Adventure – So That's How It Is (Sou-Nanda)
A kids series about a group of children who are brought into the "Realm World" when playing an online game, they have to finish a competition in two separated groups before getting back home.
Fullmetal Alchemist
The big one. The hit first go at adapting Hiromu Arakawa's manga about brothers who lose an arm and leg and an entire body in a failed attempt to resurrect their mother. Significantly diverged from the story of the then ongoing manga, particularly in its later half, but that didn't slow its popularity as it reached North America from FUNimaiton and Cartoon Network.
Galaxy Railways
Leiji Matsumoto (Captain Harlock, Galaxy Express 999) produces the chronicle of the Space Defense Force, productors of the space trains that connect the stars. FUNimation released this series, but not the follow-up OVA or 2006 sequel.
Gilgamesh
A gothy remake of a late '70s manga from Shotaro Ishinomori, which could probably be called one of the less known works from the seminal creator of lasting franchises like Kamen Rider, Cyborg 009 and the Super Sentai Series. Director Masahiko Murata went on to helm a number of Naruto Shippuden movies. ADV Films released it in North America.
Godannar
Over-the-top mecha homage with some amusing parallels to Pacific Rim. Released by ADV, with a re-releasing coming from Sentai Filmworks.

There was also a dōjinshi made by staff which was sold to fund the production of the second series.
Gungrave
Madhouse's crime/revenge anime based on the Sega game noted for having designs by Trigun's Yasuhiro Nightow and mech designs by Oh! My Goddess' Kōsuke Fujishima. Released in North America by Geneon then FUNimation, and also aired on Tech TV.
Gunslinger Girl
Madhouse's adaptation of the Yu Aida manga about the tragedies of young cybernetic girls and their adult male handlers who use them as assassins under the directions of a government organization. It's been released in North America by FUNimation and aired on IFC.

The song "The Light Before We Land" by Scottish indie rock band The Delgados was used as the opening theme.
Immortal Grand Prix
Co-produced simultaneously by Cartoon Network and Production I.G. The first series was a "microseries" consisting of five 5-minute episodes, and the second was a 26-episode animated series loosely related to the first.
Koichi Mashimo co-wrote and directed the microseries, while Bee Train Animation and Production I.G animated it, and Bandai Entertainment acted as the North American distributor. The full-length anime series was handled by director and writer Mitsuru Hongo and was animated by Production I.G, with Bee Train returning for in-between animation. Production I.G president Mitsuhisa Ishikawa joined on as producer for the series.
The series' production was managed by Williams Street in Atlanta, Georgia. Bang Zoom! Entertainment in Burbank, California produced the English dub for the series, as well as adapted the scripts alongside Williams Street. IGPX was commended for being the first original series on Toonami.
High profile English dub cast members included Haley Joel Osment, Michelle Rodriguez and Lance Henriksen
Maburaho
J.C.Staff adaptation of a light novel series about student of at prestigious magic school. Unlike ordinary people who can use magic less than a hundred times and several of his classmates, who can use magic several thousand times, Kazuki can only use his magic eight times before he turns to ash. It turns out that he is descended from a line of world famous magicians and he has the potential to father the most powerful magician in the world, so three girls take it upon themselves to obtain his valuable genes.

ADV released the anime and magna.
Massugu ni Ikou
Story of a highschool girl, told from the perspective of her dog, based on the shoujo manga.
Mermaid Forest
A second anime adaptation of Rumiko Takahashi's (Ranma 1/2, InuYasha) horror manga about the consumption of mermaid flesh. Following a 1991 OVA, this one was for the Takahashi Rumiko Gekijō omnibus TV series, and had some of the violence toned down. The final two episodes were released as OVAs, with some speculation suggesting that they were too violent for TV.
Midnight Horror School
CG series created by Naomi Iwata (who also created Pecola), and produced by Milky Cartoon.
Ocha-ken (Tea Dogs)
Mini Moni the TV
Shorts based on the Hello! Project group made up of girls under 150cm tall. Here, they're running a cake shop.
Papuwa
The sequel to a '90s manga/anime comedy about the strange inhabitants of an uncharted island. Released in North America by ADV.
Peacemaker Kurogane
Nanae Chrono's Shinsengumi historical manga was adapted into an anime series, by Gonzo Digimation and produced by Geneon, and ran for 24 episodes. It follows the plot of the manga mostly, but also introduces characters that are only shown in the sequel of the story.

The US license for the anime is held by ADV Films under the title Peacemaker. The anime aired in the United States on Showtime Beyond alongside Chrono Crusade. It was later picked up by FUNimation.
Planetes
Sunrise's adaptation of Makoto Yukimura's (Vinland Saga) hard sci-fi manga, revolving around a team of space debris collectors based in the debris craft Toy Box in the year 2075.

Both the manga and anime received the Seiun Award for best science fiction series. Bandai released it North America.
Popolocrois
Second of two anime series based on Tamori Yousuke's story, originally published in the Asahi Student Newspaper, turned into a series of PlayStation RPGs. This is based on the 4th PlayStation 2 game in Japan, PoPoLoCrois: Adventure of Beginnings (Japanese title: "Popolocrois Hajimari no Bouken", official English Title: Popolocrois: A New Departure), and the 5th Popolocrois: Law of the Moon Adventure (Japanese title: "Popolocrois Tsuki no Okite no Bouken", official English title: "Popolocrois enchanted lunar tale").
Requiem from the Darkness
An adaptation of award-winning novelist Natsuhiko Kyogoku's period story of a young man traveling with spirits, collecting tales for a book of 100 ghost stories. Known for its dreamlike visual style, the anime was released in North America by Geneon and aired on Syfy.
Rockman EXE Axess
Second of the five Rockman EXE/ MegaMan NT Warriors series, and the later of the two released and English.
A 26-episode anime TV series, animated by J.C.Staff and produced by Aniplex, directed by Koji Masunari and scripted by Hideyuki Kurata, about the adventures of three paper-manipulating sisters, Michelle, Maggie and Anita, who become the bodyguards of Nenene Sumiregawa, a famous Japanese writer. Featuring music by Taku Iwasaki, the series is a sequel to the Read or Die OVA. Its official title of R.O.D -THE TV- is a catch-all acronym referring to the inclusion of characters from both the Read or Die novels, manga and OVA and the Read or Dream manga, which revolves solely around the Paper Sisters.
Rumbling Hearts
Adaptation of Kimi ga Nozomu Eien (The Eternity You Desire), or Kiminozo for short, a Japanese adult visual novel developed by Âge and released on August 3, 2001 for Windows. Released in North America by FUNimation.
Saiyuki Reload
The second anime based on Kazuya Minekura manga, retelling the Journey to the West with the monk and his monstrous disciples as bishonen.
SD Gundam Force
A Japan/America co-production, SD Gundam Force initially aired on Cartoon Network in the U.S. for 26 episodes, and later on TV Tokyo in Japan for 52 episodes, making it the longest Gundam series until the arrive of the Gundam Seed universe. The TV show was the first Japanese anime to never have VHS releases and all its home video releases are only available on DVD with each DVD having 3 episodes each.
SD as in Superior Defender is a crossover series based on the three SD settings that were used in earlier SD Gundam anime and manga: SD Command Chronicles, a science-fiction-styled militaristic setting; Musha Gundam, a setting with samurai-themed robots; Knight Gundam, a medieval European fantasy-themed setting.
It was one of least-watched Gundam titles in Japan, having averaged a 2.1% share of the viewing audience throughout its broadcast, beating the previous record holder, After War Gundam X, which averaged at 2.8% during its run.
Tsukuhime, Lunar Legend
J.C.Staff's adaptation of the adult dōjin visual novel created by Type-Moon. It follows the perspective of Shiki Tohno, a student who develops the ability to see "death lines" after recovering from a life-threatening injury. It's set in the same universe as the Fate/ series, and the license went from Geneon to Sentai Filmworks.
Twin Spica
Group TAC's 20 episode adaptation of the Kou Yaginuma's manga about a a group of Japanese high school students training to become astronauts in the early 21st century after the country's first human spaceflight launch ends in a disaster that causes many civilian casualties. The series concluded before the manga had ended, getting to the equivalent of chapter 25.

While the manga has been released by Vertical, the anime never made it to North America. Satellite television network Animax has broadcast the anime in multiple regional language releases, including English.
UFO Ultramaiden Valkyrie 2: December Nocturne
Part of the sci-fi franchise from Kaishaku, who are also known for creating Steel Angel Kurumi. Released in North America by ADV.
Uninhabited Planet Survive!
Madhouse and Yuichiro Yano (Moyashimon, the Animaniacs, New Batman/Superman Adventures) 52-episode (+3 OVA).
Yami to Boshi to Hon no Tabibito
Loose adaptation of a yuri visual novel with the same relationships, but different story. A North American release has been announced by Media Blasters.
Zoids Fuzors
The third Zoids series based on the toys, following Zoids: New Century Zero in order of production. The series is 26 episodes long, however, the show had an unsuccessful U.S. broadcast, and was eventually canceled after 13 episodes. The show was first broadcast in the U.S. instead of Japan. The Japanese version contained improvements added to the episodes over the time between releases.
------
Scott Green is editor and reporter for anime and manga at geek entertainment site Ain't It Cool News. Follow him on Twitter at @aicnanime.