Photos posted from the otome festival by official Twitter accounts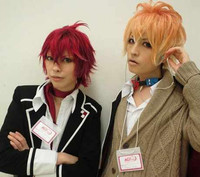 The weekend of Animate Girls Festival started early in the morning with photos of girls lining up for the event. Some people called it Animate Girls Fight because of all the lines to purchase merchandise with the maximum wait time of 150 minutes and sold out items, but lots of good news came out of this year's festival including the debut of prototype figures and announcements of upcoming merchandise. Let's look at the event through photos posted by various Otome brands official Twitter accounts.
The Meganebu booth at AGF as posted by the official account.
Meganebu merchandise on sale, anime character profile sheet and original drawing of Meganebu manga on display at the booth.
There was a random drawing for prizes including cast autographed scenario book at the event as you see above.
The above Amnesia button set sold out on both days according to the official account.
The Hakuoki buttons set sold at the booth as posted by the official account.
Brothers Conflict
The SD Animal Hoodie Button set sold out at the event but the official account says that online orders are planned for the future.
The Diabolik Lovers booth had Ayato and Shu cosplayers to welcome fans as posted by the official account.
Karneval
WooPerona (the pair of Wooser and Nyanperona, coincidentally both voiced by Miyano Mamoru) were at the booth to greet the fans.
The Karneval booth offered official nail film and tattoo stocking collaboration merchandise with otaku apparel shopping site, 2PMWORKS.
The Karneval offcial Twitter account even suggested visiting the KaraTetsu karaoke box chain for the anime collaboration room after the event.
Captain Levi was spotted trafficiang people to Ichiban Kuji booth by the Banpresto official account.
The Banpresto booth also offered the Attack On Titan Big Rubber strap for 1000 yen.
The 1/10 scale rubber strap is literally big as you see in the photo the Banpresto account posted.
YowaPeda was featured as well as Kuroko's Basketball at the Banpresto booth.
The Photo album set was sold at the booth as posted by the official account.
Jolie, Felicita and Pace cosplayers roamed around the event site to promote the booth and series.
Look at all the sold out signs. The official account is encouraging people who missed the merchandise this time to send requests for more product.
Handmade Bag Charms were sold and sold out at the booth according to the official Twitter account.