This week, check out fanart of the messiest love triangles around!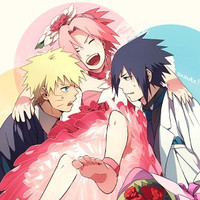 Fanart Friday returns, half-dead but pretty much ready to move. Last week, we took a look at one of the greatest anime studios of all time, but this week we're (sort of) celebrating Valentine's Day with a common storytelling staple: the love triangle!
I almost chose Lustra's "Scotty Doesn't Know," but that would have been a bad idea
I'm gonna have to apologize for how brief this week's installment is--I'm actually moving to the San Francisco area so I can work at the Crunchyroll office, so this week, you're not getting any witty commentary from me (and for some of you, that might be a good thing). Next week, though, it'll all be back to normal, so for now, just enjoy the art! Also, my apologies to anyone whose requests I was not able to meet--again, it's been pretty insane getting this move together. Now, let's get started!
DISCLAIMER: None of the art presented is the property of myself or Crunchyroll. All characters and series are tm and © their respective creators and corporate owners. All art is the creative property of their respective artists. Any artists who wish to have their work removed from this article may contact me, and appropriate action will be immediately taken.
by うえすと
by EricGuzman
by サガクレ
by natsumi33
by KL
by いぷしろん
by ポップキュン
by Robaato
by ちょの
by けんけんぱ
by HERO
by Kanamex
by ultmte READER SUBMISSION!
by ミン
by Bodatheyoda
by c・まったり更新停滞
by ---
by Leisure
by しん
by 霧原 和花奈@雑食系
by フーポ
And that's everything for this week! This installment was actually tougher to find art for than I thought, because 1- people tend to draw their preferred couples instead of an actual love triangle and 2- just like I said in Plain as Folk Edition, hardly anybody wants to draw the guy in romance or harem titles. Again, I'm so sorry I wasn't able to fit in everybody's requests, or even come up with commentary for everything, but this move is kicking my ass. We'll be back to our regularly scheduled programming next week, but until then, if you're in the mood for more Valentine's Day fanart, check out Reservation for Two Edition, or Forever Alone Edition! Still in the mood for romantic fanart? Check out our Shipping Industry theme (Part I, Part II, Part III, and Part IV) from June!
Like I say every week, your art is always welcome here on Fanart Friday, regardless of your skill level or experience. Just PM me a link to your work, and I'll make sure to include it in a future installment! Here are the next three themes for Fanart Friday:
-Next week, on FEBRUARY 21st, we start a semi-regular theme for the year dealing with voice actors, starting with STEVE BLUM! The man who's lent his voice to everything from Cowboy Bebop to 7-11 ads takes center stage on next week's Fanart Friday! THIS IS THE ONLY THEME I'M TAKING REQUESTS FOR THIS WEEK!
-Then, on FEBRUARY 28th, we tackle another voice actor (these will usually be in pairs)--TOMOKAZU SUGITA! He's got a pretty recognizable voice, and do you notice how there's almost always heartbreak of some kind when his voice is synthesized?
-On MARCH 7th, lend us your power, focus your Nen, and explode your Cosmo--we're going to be going all-out with our favorite POWERED-UP FORMS!
Thanks again for coming by to check out Fanart Friday, even if we're not running at full speed this week. I hope you drop by next time, when we're back up and running like normal! Have a great weekend, everybody!