The 1st chapter hits Japanese theaters on April 5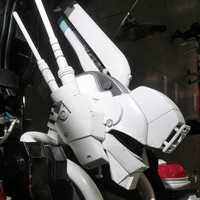 The first AnimeJapan event kicks off today at the Tokyo International Exhibition Center, aka Tokyo Big Sight. The biggest display object at the two-day event is no doubt the life-sized models of AV-98 Ingram (16m-tall) and its transporter, both were actually used in the upcoming live-action The Next Generation - Patlabor films. After the shooting was ended last December, the models have been featured in various promotional events. Check the detailed photos below.
*all of the photos were taken by Mikikazu Komatsu with the exhibitor's permission.
© 2014 "THE NEXT GENERATION -PATLABOR-" Production Committee