Will Victoria Make it Out Alive?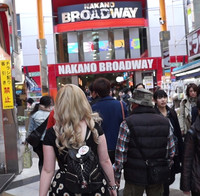 In the latest episode of CRUNCHYROLL x TOKYO, Victoria ventures into the anime-manga mega mall known as Nakano Broadway on her very first trip to Japan. Can she survive the gauntlet of Sailor Moon phone cases, JoJo's Bizarre Adventure figures, and crazy cosplay wigs with her dignity and wallet intact? Watch below and find out!
EPISODE 3 "Otaku Shopping Spree at Nakano Broadway!"
And in case you haven't yet seen the first two episodes of CRUNCHYROLL x TOKYO, we humbly present both below!
EPISODE 2 "Wake Up, Girls! Interview!!"
EPISODE 1 "Anime Japan 2014 Report!"
---------
Patrick Macias is editor in chief of Crunchyroll News. He is also the editor of Otaku USA magazine. Check out his rather amazing Tumblr at japanesefashioninferno.tumblr.com.