Character panels, posters, production materials, and more!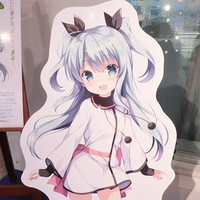 The latest featured anime titles at Tokyo Anime Center, which is located on the fourth floor of the Akihabara UDX building, were P.A.WORKS's on-going TV anime Glasslip and Studio 3Hz's upcoming Sora no Method. The exibition was held from August 5 to 17, and I visited on the last day. As always, the center exhibited various anime scene panels, promotional posters, character panels, and production materials including back ground arts and key animation arts. The center also used some space for the promotional posters for another Fall 2014 TV anime Shirobako.
The TV anime Glasslip is now available to the Crunchyroll audience in the United States, Canada, Australia, New Zealand, South Africa, Turkey, Latin America, Europe (except Albania, Belarus, Bosnia and Herzegovina, Vatican City, Moldova, Macedonia, Monaco, Montenegro, San Marino, Russia, San Marino, Serbia, Ukraine), the Middle East, and North Africa.
Sora no Method is scheduled to premiere on Tokyo MX, TV Hokkaido, Sun TV, KBS Kyoto, BS11, and other
stations across Japan in October.
*all of the photos were taken by Mikikazu Komatsu with TAC's permission
Akihabara UDX building (showing the PV of voice actress Yui Ogura's latest 4th single "Tinkling Smile")
Character flag posters
Promotional posters
Character references
Background arts
Key animation arts
---
"Sora no Method" promotional posters
"Sora no Method" character panels
"Sora no Method" character references
Original character designer QP:flapper's illustrations
---
"Shirobako" promotional posters