Check out the many roles of LAURA BAILEY on this week's Fanart Friday!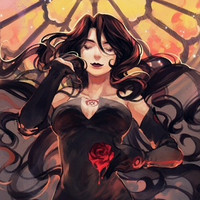 Fanart Friday returns, and it took me twenty minutes to come up with that freaking title--shameful, I know (but better than "Bailey's and Coffee Edition," at least). Last week, we went back to school, but this week we're looking at another voice actress--English-language performer LAURA BAILEY! Much like Steve Blum (who we covered in Bloomin' Blum Edition), Laura Bailey has quite the career--not one to be typecast, she's not only played many different characters, but many different types of characters, from sultry femme fatales to plucky kids and everything in-between.
I dunno, maybe that's the insidious secret goal of these Fanart Fridays--to give you crippling indecision when it's time to watch anime, if you're going to go with the Japanese or English option. Let's get started!
DISCLAIMER: None of the art presented is the property of myself or Crunchyroll. All characters and series are tm and © their respective creators and corporate owners. All art is the creative property of their respective artists. Any artists who wish to have their work removed from this article may contact me, and appropriate action will be immediately taken.
by mocha
I'm always impressed when a grown-ass adult plays a child--not just that, a convincing child (with appropriate caveats). Gunslinger Girl's Henrietta is technically a kid, but has seen and done and put up with so much crap that it's just skin deep.
by OroNoDa READER SUBMISSION!
Of course, Laura Bailey's been tapped to join the Marvel Universe as the voice of Natasha Romanoff, the Black Widow! I'm in the small minority that just doesn't care for Scarlett Johansson in the part, despite otherwise being a fan of ScarJo herself.
by PONG
I can tell exactly how this conversation is going: "Urameshi, right? Yeah, eff that guy." My first experience with Laura Bailey's voice acting was as Keiko in the dub of Yu Yu Hakusho!
by Dark-Ryo
However, quite a few of you mentioned in last week's comments that your first role you heard her as was Marlene in Blue Gender! There's a show I haven't seen in quite a while...
by hwei
Wait, she's in Sengoku BASARA too? While my initial expectation was that she played the lithe Kasuga, she instead plays the beleaguered Oichi!
by spacecoyote
While I played Nine Doors, Nine Persons, Nine Hours, I never actually finished it, so I didn't pick up Zero Escape: Virtue's Last Reward, the 3DS sequel that I'm always eyeing when I go to buy video games. Bailey played Luna in this one!
by 白昼夢
Is Martha just one of those names that's forever lost to time, like Bertha and Enid? Tales of Symphonia: Dawn of the New World didn't answer that particular burning question, but it did teach me that (ugh) "courage is the magic that turns dreams into reality."
I'm gonna say this now, because I rarely get the chance to include Detective Conan's Serena Sonoko: SHE A HO. Okay, not really, she's just boy-crazy. I just like to justify the juvenile nickname "SonoHo."
by 桜留
The world of Darker than Black is not a fun place, and while Amber's able to stay relatively positive, there's only so much you can do. I'm actually surprised this series isn't as popular as I thought it'd be--I mean, people know it and like it, but it didn't set the world on fire.
by ソラノメグリ
Last week, a reader recommended that I watch Basilisk (where Bailey plays the doomed beauty Oboro)--I actually own Basilisk, but I'm not gonna lie, it's one that I get the urge to rewatch, and then remember the hilarious cavalcade of sadness that is the series' second half, and decide against it.
by ultmte READER SUBMISSION!
Around the same time, I had friends watching Kiddy Grade, and while I was a big fan of the art (and Alv--how you doin'), I just couldn't get into it otherwise. Think I should give it another chance?
by 氷川 翔@篠崎さん連載中
Oh, Disagaea--I spent so much time on the original that I completely burned myself out for future games. After finding out that Laura Bailey voiced Disagaea 3's Raspberyl, I'm considering giving the series another shot.
by 白崇寧
Y'know, I don't wanna be that guy, but damn if Laura Bailey wasn't the perfect pick for Fullmetal Alchemist's velvet-voiced villainess Lust. I agree with you guys--if there ever was a live-action FMA movie, she also looks the part.

by 煉童(rendo)
On to another big BONES role, Laura Bailey got to switch gears from being a deadly seductress to a fired-up teenager in Soul Eater--Maka Albarn is a hard-charging little badass!
by Grunt45
So, uh... confession time: I've played maybe an hour or two total of The Elder Scrolls V: Skyrim, so I have no idea who Serana is. When I upgraded my Xbox 360, it came with a copy of the game, which is sitting almost completely untouched on my hard drive. Maybe one day I'll be in the mood for it.
I have, on the other hand, logged in a ridiculous amount of hours into the Street Fighter IV series, where I'm torn between Fumiko Orikasa and Laura Bailey's performances as Chun-li!
by Death5trawberry READER SUBMISSION!
I've only seen a little bit of Bleach's dub, but I remember liking what I heard--if I can ever make it all the way to big "final battle with Aizen and Arrancar" arc, I'll get to hear Laura Bailey as Tier Halibel!
by 奏
Wait, Kodocha has a dub? And Laura Bailey plays hilarious, ultra-genki Sana? SOLD!
by 尋
It's kind of sad to say, but I go long stretches without playing my 3DS--partially due to reviews (I'm currently working on Naruto Shippuden: Ultimate Ninja Storm Revolution and Destiny) and partially due to just forgetting I own great games like Fire Emblem Awakening. Who's looking forward to playing as Lucina in the new Super Smash Bros.? And is Laura Bailey still voicing her in SSB?
by りんごあめ
So where do you think Laura Bailey gets to flex her acting chops best? As a normal girl, like Fruits Basket's Tohru Honda?
by ひろかず
Or as a rough-and-tumble badass like Tiger & Bunny's Dragon Kid? Seriously, this one's on the short list of "dubs I like better than the original Japanese performance" alongside Cowboy Bebop and Cromartie High School.
by yum
Or are you a fan of that throaty, sexy purr she can pull off, like in--GET OUTTA HERE, SHIN-CHAN, WE'RE NOT TALKING ABOUT YOU!
And that's everything for this week! There's no way I could have included all of them--what are your favorite roles played by Laura Bailey? Sound off in the comments and let us know!
As always, your art is always welcome here on Fanart Friday, regardless of your skill level or experience. Just PM me a link to your work (full URL, please!) and I'll be sure to include it in a future installment! Here are the next three themes for Fanart Friday:
-Next week, on SEPTEMBER 19th, we celebrate THREE YEARS OF FANART FRIDAY, not only with a RECAP EPISODE, but with some other special surprises! I'M NOT TAKING ANY REQUESTS FOR NEXT WEEK, BUT ANY AND ALL SUBMISSIONS ARE WELCOME!
-Then, on SEPTEMBER 26th, it's back to school yet again--kinda--as we get rowdy with our favorite DELINQUENTS!
-On OCTOBER 3rd, we celebrate the release of SUPER SMASH BROS. for 3DS with a theme honoring Nintendo's fan-favorite four-player fighter!
Thanks again for coming by to check out Fanart Friday! Have a great weekend, and I hope you come by again next week!