Behind-the-scenes at YaoiCon with Reika!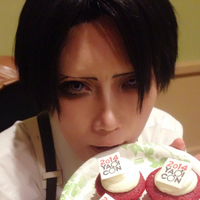 Ever wonder what it's like to attend anime conventions around the world as a cosplayer guest? I had an opportunity to assist highly regarded Japanese cosplayer Reika as her translator during the famous Yaoi-Con 2014 on September 12-14 in the San Francisco Bay Area, where she was invited as an Industry Guest. Reika let me share her experience during the convention on Sunday!
WARNING: YaoiCon is 18 and up event. Some people may find some images offensive and the details of some events are intentionally left out due to content.
Highlights from Friday and Saturday:
via Reika's Twitter
Reika cosplayed as Rei Ryugazaki from Free! on Friday, which was more than appropriate for the convention with many other Free! cosplayers. After wearing a lab coat on stage during the Opening ceremony, her first official event was modeling at a live drawing session. We wandered around the con after the hilarious live drawing session (just imagine a drawing session with props like handcuffs and a whip), she had a photoshoot with Bigwhitebazooka by the swimming pool, stopped at the karaoke room, then visited Bishonen Bingo where Reika found Makoto cosplayer and snagged a photo.
Reika's Saturday at Yaoi-Con started with breakfast delivered to her room, which is rare since scheduled meals at conventions are often compressed for time, and this is another sign that Yaoi-con takes really good care of its guests. Reika cosplayed as Ren Jinguji from Uta No Prince Sama and did an hour autograph session at 10:30am.
Saturday was the busiest day for Reika with a back to back event schedules until very late in the day. A Japanese Yakiniku BBQ lunch was just what she needed to keep going! (permission was obtained from the restaurant to visit in cosplay.) She was missing Japanese food since she was in Italy for an event, then rushed back to Tokyo for a day-long shoot before getting on another flight to San Francisco without a chance to enjoy Japanese food in her home country.
via Reika's Facebook
Reika's Q&A panel on Saturday was a huge success with many great questions about cosplay and life in general (very deep indeed) and even included her singing a little tune from Uta No Prince Sama.
via Reika's Twitter
After judging a very interesting Cosplay Masquerade, Reika was auctioned off at the Bishonen Auction. Above, Reika performing Zankoku Na Tenshi No Thesis on stage. She earned a $4000 donation which was a con record.
YaoiCon Sunday with Reika
The first event on Sunday was a breakfast with the Auction winners at 10AM! Above, Reika is happy with a gift from one of the Auction winners.
Then, a second autograph session held at 11:00AM.
via Reika's Facebook
Right after the autograph session, Reika rushed to the main ballroom to do a makeup and wig styling panel at 12:30PM and shared her cosplay techniques. Above, Reika is demonstrating how to do make up to better resemble Levi from Attack On Titan on a model.
Final result of the Levi makeup on right side, above. Notice the difference in the size of the model's eyes.
Immediately following the makeup and wig styling panel, Reika was at her booth for another selfie session with her fans at 1:30PM.
After talking lots of selfies, she had a chance to sit down to enjoy some seaweed in a green room set up by the con.
Reika as Levi chilling backstage while waiting for her turn to come on stage, above. She was wondering how she could come out after seeing what's happening on stage on the screen during the Closing Ceremony.
Above is her last official appearance at Yaoi-Con at the closing ceremony!
That's a wrap for Reika during the eventful weekend at Yaoi-Con in the San Francisco Bay Area!
Event organizers who are interested in inviting Reika as a cosplayer guest can contact her directly to check with her current schedule, which is already pretty full until mid-2015. Her minimum guest invitation requirements are, airfare and hotel accommodation, expenses during stay (meals, transportation and event related costs), a Japanese translator and a chance to sell her photobooks. Please contact her for more details.
Images are credited to me unless otherwise noted.
Special thanks to Yaoi-Con, Yakiniku House Juban Restaurant and Reika