Featuring the four girls from the latest TV series on stage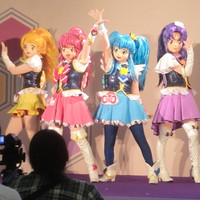 One of the most popular programs on the open stage in Kyoto International Manga Anime Fair 2014, which was set up on the first floor of Miyako Messe (Kyoto International Exhibition Hall), was, of course, the HappinessCharge PreCure! character show. HappinessCharge is the ongoing 11th installment of Toei Animation's long-running PreCure series, and their character shows featuring the kigurumi actors and actresses have been held regularly all over Japan.
The seats were already full 15 minutes before the show. Half of the audience were young kids around 5 or 6 with their parents, who were the show's major target, and the rest were adult manga/amime fans in their 20s and 30s. After several practices with the female MC, the kids in the front seats were cheering their favorite heroines with the shout of "Ganbare!" (Hang in there!) as loud as possible during the battles on the stage.
The story for the half-hour show was very simple. With the suggestion by Cure Fortune who wants to
deepen the bonds of the team, the four members of the HappinessCharge PreCure team decide to join
an upcoming dance contest. But one of Phantom Empire's commanders, Oresky (voiced by Takehito
Koyasu in his typical overacting style) tries to disturb their practice using a street dancer-type Saiark.
FEATURE: Kyoto International Manga Anime Fair 2014 Photo Report 1: 1/1 Scale Ingram from "Patlabor"
FEATURE: Kyoto International Manga Anime Fair 2014 Photo Report 2: Company Booths
*all of the photos were taken and posted by Mikikazu Komatsu with the event organizer's permission
Cure Lovely, Cure Honey, Cure Princess

Oresky intimidates the audience

Cure Honey vs Oresky
When Oresky almost beats down Lovely, Princess, Honey...,

Cure Fortune comes to save them!
After Oresky is gone, Cure Fortune says she has an idea of joining an upcoming dance contest
Cure Lovely says, "How exciting!"

"Thank you for your wonderful idea, Cure Fortune!"

So they start practicing with the 1st ED song "PreCure Memory"
Then, Oresky sends a street dancer type-Saiark for revenge
Now they can't concentrate on their own practice at all
Taking this opportunity, Oresky and Saiark attack the girls from their behind
Cure Fortune desperately asks the audience for their "Ganbare!" support
With the kids' "Ganbare!" shout, the girls finally regain their PreCure power!
This show's final attack was Cure Honey's Sparkling Baton Attack
The girls are celebrating their victory!
In the end of the show, they dance the 2nd ED song "Party Has Come"