Posters, character panels, production materials, and more!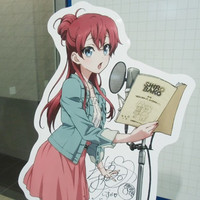 As reported many times, Tokyo Anime Center, which is located on the fourth floor of the Akihabara UDX building, has been known as one of the information hubs for Japanese anime culture. It is now holding a special exhibition featuring SHIROBAKO, the ongoing anime industry-themed TV anime produced by P.A. Works (Hanasaku Iroha, Nagi no Asukara) and directed by Tsutomu Mizushima (Squid Girl, Girls und Panzer), for 10 days from December 18. The admission is free as always.
The SHIROBAKO TV anime is now available to Crunchyroll's audience in USA, Canada, South Africa, Latin America, United Kingdom, Ireland, New Zealand, The Netherlands, Scandinavia, Turkey and Australia.
*all of the photos were taken by Mikikazu Komatsu with TAC's permission on December 24, 2014
The Akihabara UDX building
The entrance
Promotional posters
The screen is showing a short PR video by the three voice actresses
Character panels
Episode summaries
Character references
Background arts
Character references for Exodus!
OP/ED song CD
Blu-ray 1st volume package
Replica animator desk
Original tote bag is pre-sold in the character good section
© "SHIROBAKO" Production Committee