Rooster Teeth action director and animator passes at 33 years old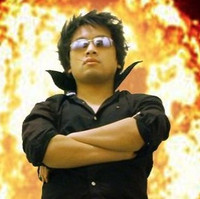 A couple days ago, we received word that RWBY creator Monty Oum had been hospitalized, and a fundraiser was being set up to help him and his family. Unfortunately, the news doesn't get better--an update from Rooster Teeth has told us that Monty Oum passed away on Sunday afternoon at the age of 33. In the words of Rooster Teeth's Matt, Monty is survived by "his wife Sheena, his father Mony, his brothers Woody, Sey, Chivy and Neat, and his sisters Thea and Theary, as well as a countless number of fans and friends."
Oum's popularity skyrocketed after the release of Haloid, a fan film pitting Metroid's Samus against Halo's Master Chief, and his popularity only rose from there. Rooster Teeth asks us to honor Oum's memory by "doing something creative," and by using our imaginations to make the world a better place. Our thoughts and prayers are with Monty Oum's family and friends in this terrible time. Rest in peace, Monty, I'm sure God appreciates great fight choreography as much as we do.
You can help support Oum's family by checking out the fundraiser at this link.