"Without VAL there never ever would have been a music club..."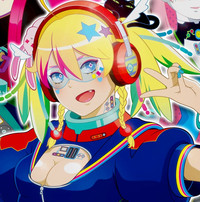 The world of Hiroyuki Takahashi's original HYPERSONIC music club webcomic continues to expand with this week's update as the spotlight lands on club organizer, head DJ, and all-around instigator VAL (previously, we ran a character file on her club compatriot COSIMA).
All this, plus bonus art and updates from the HYPERSONIC gang below!
HYPERSONIC music club Character File 02: VAL
Without VAL there never ever would have been a music club… never, ever, not even "maybe".
While VAL is too humble to ever try and take full credit herself, a group of self-appointed chroniclers of the far, far, future now remain reasonably sure that music club was basically all her idea: She organized the events, she selected the key conspirators, and got the whole crazy idea off the ground (elaborate simulations have shown that others would have dropped the ball, would have stepped on the ball and slipped, or would not have optically recognized a simple round object as a ball in the first place).
Unfortunately, without VAL and music club, the Extra Dimensional Monster Girls also never would have tried to invade the world at the absolute worst possible time, along with all the problems that went and caused. So chroniclers of the far, far, future also tend to blame VAL for practically everything they possibly can.
So much for pleasing everyone all the time…
Still, VAL herself could hardly have suspected where things would ultimately lead to when, one very slow day in the year X85X, while sitting completely bored in class, she suddenly had the idea to hold secret music parties with her friends away from the prying eyes of SYSTEM…
Music itself wasn't outlawed or illegal or anything silly like that, but most people enjoyed it purely on a physical level and kept it to themselves with the aid of devices like all-player-implants plugged into whatever was left of their human nervous systems (sometimes, just an implant-addled brain). Part of the motive was money: VAL was bad at keeping it and never could seem to afford nice cyborg upgrades like many of her peers on a SYSTEM school allowance. The other part was more emotional: Then as now, VAL could never stand to be alone or bored -- a deep seated anxiety seemed ready to wash over her whenever she spent too much time in her own head -- so doing something involving others was bound to happen one way or another.
Aforementioned chroniclers of the far, far, future, if left alone to their own devices, will sometimes judge VAL in increasingly harsh psychological terms: she was an orphan who had been raised wholly as a ward of SYSTEM. music club was sort of a replacement family where VAL could have some security and control on her own terms while rejecting the security and control that SYSTEM imposed on her. VAL was the mom to others that she herself never had.
But what overly analytical implant-ridden minds often tend to overlook is the part that basic "fun", or lack of it, would play in the formation of music club. School in the year X85X -- when mandatory classes for minors were held from 8am to 9pm, was not known as being a particularly thrilling place for anyone -- especially for the pupils. If the schools that SYSTEM ran like prisons would have just been a little more fun, things might have turned out a lot differently for both good and bad.
Instead, school was more boring than it had ever been in human or post-human history, and VAL gravitated towards the other weirdoes on her class – LANYA, COSIMA, and BYRD (when he bothered to show up in class at all). VAL had the energy and crazy-smiley-face charisma to bring them together and sell them on her loopy idea of club events, just like people used to do for fun in the Time Before Now. COSIMA was able to research exactly what that entailed by being able to access images and footage from the Old Web, BYRD was able to salvage the basic audio-video equipment that would be needed from the various colossal junk heaps that dotted the landscape, and LANYA helped to design and secretly distribute the fliers around the school.
They just figured SYSTEM either wouldn't know, or wouldn't care about music club… and they didn't for a while, anyways. That is, until the Mystery Frequency entered the scene and SYSTEM wanted to weaponize things...
VAL was given the honor of being music club's first DJ, assembling a sound recording collection from the vast piles of physical media past and cherry picking music files from discarded storage devices. She gravitated, as you might expect, to "fun" music: shameless pop music, irresistible dance anthems, ancient anime theme songs, big booty shakers, anything that would work groovin' magic on the lucky invitees to music club. And work, it did…
Eventually, the success of music club gave VAL the confidence to save up enough money to get some A/V socket implants and a mobile wearable subwoofer where her waist used to be. But she sort of drew the limit on cyborg stuff from then on, figuring that music club, rather than herself, was the more important resource. I guess she was kind of happy for a while.
VAL made others happy too, in small but significant ways, sometimes just from a smile when she was playing music or the way she stood in a room occupying time and space, but that's something the chroniclers of the far, far, future don't know anything about, sadly. You sort of had to be there.
---------------------------
So now that you've been formally introduced to VAL on and off the dance floor, here's some bonus art courtesy of Hiroyuki Takahashi. First up is the Line Art for VAL created for Page One.
Below is Takahashi's Original Character Concept for VAL, which was a little different (and more modest) from what she eventually ended up looking like.
So what else is going on? Well, for those of you just tuning into HYPERSONIC music club's mystery frequency for the first time, we're going to repost the first four pages below. Look for new story and art NEXT WEEK!
Now, as we begin the fade out, consider this your friendly reminder that we are offering a HYPERSONIC music club postcard set in the Crunchyroll store: 5 cards on high quality glossy stock that does Hiroyuki Takahashi's colorful proud.
We've also done a restock on the exclusive HYPERSONIC music club poster, signed by Hiroyuki Takahashi! Not too many of these left, so get one soon if you want one (which of course, you do).
Finally, as we prepare to dive deeper into the world of HYPERSONIC next week, here are the main links to keep track of!
HYPERSONIC music club Crunchyroll News page (Latest developments, new pages will on Crunchyroll News first)
hypersonic-music-club.tumblr.com (All art, bonus features)
hypersonic-comic.tumblr.com (story pages only, presented in standard webcomic format)
HYPERSONIC music club on Twitter (Updates, RTs of cool Japanese stuff)
HYPERSONIC music club on Crunchyroll Manga
Hiroyuki Takahashi on facebook (The artist himself!)
SEE YOU NEXT WEEK!
------
Patrick Macias is editor in chief of Crunchyroll News and Otaku USA magazine. He is also the author of Paranoia Girls webcomic.