The new full color webcomic by Hiroyuki Takhashi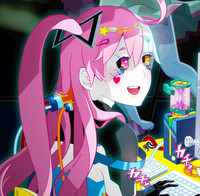 Artist Hiroyuki Takahashi's original HYPERSONIC music club webcomic gets a "+1" today in the form of a dazzling new full color story page. Enjoy the latest installment, groove on bonus art, and catch up on the latest adventures of team HYPERSONIC below!
When last we left off in the year X85X... our main characters had thrown away the pressures of a yet another 9am – 9pm school day and were blowing off steam at one of their top secret underground parties. Then, LANYA says to COSIMA…
------
BONUS! As is the norm around here at HYPERSONIC music club, we present a selection of behind-the-scenes art from Hiroyuki Takahashi. First up, are his rough pencils for this page!
Next here's how the page shapes up after being digitized and tinkered with in Adobe Illustrator to make the line art version...
Finally, the finished page minus world balloons and narration!
-------
NOW, for those of you just joining us at HYPERSONIC music club and might be wondering what the heck is going on, we present all the story pages so far below in chronological order…
------
So what else is going on in HYPERSONIC event horizon?
HIROYUKI TAKAHASHI Q&A!
Well, now that we are a few months into making HYPERSONIC music club a thing, we figured it might be fun to pelt our artist Hiroyuki Takahashi with a fresh round of interview questions. Have something you'd like to ask about the characters, story, or Takahashi's working methods? Ask in the comments below and we'll do the rest!
xbtcd14 - V.A. / CRASH EP demo
The big release this week is the new EP by Japanese techo mix master supremo exbit trax. Hiroyuki Takahashi has long been associated with the indie label and has contributed a new cover illustration for the 14th volume in the xbtcd series, the CRASH demo EP. A more perfect musical accompaniment to our humble web comic is difficult to imagine!
Also in the works: more limited edition HYPERSONIC merchamdise to covet and collect, a state of the union address from Hiroyuki Takahashi himself, and more story pages! Expect things to heat up in a bit when the Extra Dimensional Monster Girls make their move!
---------------------------
Now, as we begin the fade out for this week, consider this your friendly reminder that we are offering a HYPERSONIC music club postcard set in the Crunchyroll store: 5 cards on high quality glossy stock that does Hiroyuki Takahashi's colorful proud.
HYPERSONIC music club Postcard Set 1
The Crunchyroll Store is also offering a pair of Hiroyuki Takahashi stunning illustration books originally sold at Comiket in Japan. Both his Original Character Illustrations Vol. 8 and Line Art Illustrations books are in limited quantities.
Hiroyuki Takahashi Original character illustrations Vol. 8
Hiroyuki Takahashi Line Illustration Art Book
We've also done a restock on the limited edition HYPERSONIC music club poster, signed by Hiroyuki Takahashi! Not too many of these left, so get one soon if you want one (which of course, you do).
HYPERSONIC POSTER SIGNED BY HIROYUKI TAKAHASHI
Also, we continue to offer signed items from our pal TORIENA, Japan's reigning queen of 8-bit chiptunes music. You can read our interview with her here.
NOW, as we prepare to dive deeper into the world of HYPERSONIC next week, here are the main links to keep track of!
HYPERSONIC music club Crunchyroll News page (Latest developments, new pages will on Crunchyroll News first)
hypersonic-music-club.tumblr.com (All art, bonus features)
hypersonic-comic.tumblr.com (story pages only, presented in standard webcomic format)
HYPERSONIC music club on Twitter (Updates, RTs of cool Japanese stuff)
HYPERSONIC music club on Crunchyroll Manga
Hiroyuki Takahashi on facebook (The artist himself!)
STAY HYPERSONIC, FIND THE MYSTERY FREQUENCY, AND SEE YOU NEXT WEEK!
------
Patrick Macias is editor in chief of Crunchyroll News and Otaku USA magazine. He is also the author of Paranoia Girls webcomic.