"The club's main supplier of slightly shady A/V tech"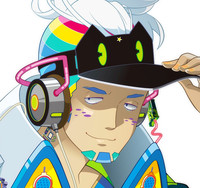 The world of HYPERSONIC music club gets an update today in the form of a new character file on BYRD, the club's main supplier of slightly shady A/V tech.
So far, we've run files on quite a few of the story's main characters, including VAL, LANYA, and COSIMA, and seeing as how BYRD made his big debut in the latest page of HYPERSONIC, which is (as you must now be aware) Hiroyuki Takahashi's original webcomic for Crunchyroll, we figured now would be as good a time as any to give you a bit of his back story. So here we go…
HYPERSONIC music club Character File 02: BYRD
Ask the others about BYRD, and VAL, COSIMA, and LANYA will collectively look at each other, sigh and say, "He's not really part of music club."
If only things were that simple...
In truth, BYRD exists right on the border of where music club begins and end, both an outsider and insider who has managed to charm, piss off, rip off, enable and inspire pretty much everyone who spends more than a few minutes with him, often in exactly that order, and within the count of ten.
Finding the actual time to interact with BYRD is hard though, because he's usually not around, least of all in class where, by all rights, he's supposed to be like the others… but in some ways, he's not like the rest of them…
BYRD has a way with technology similar to a magician and a top hat; he is able to assemble, disassemble, retrofit, and update pretty much anything provided he has the right pieces and at least some kind of angle to play. While the others stick it out in class, BYRD is usually out scavenging in the fields of Dead Tech (that make up most of the world now) looking for spare parts and conducting the occasional strange and thrilling experiment with sound waves.
It was from these sessions that BYRD first developed LIQUID ROOM stealth technology, which uses hypersonic frequencies to evade detection and security systems. And it is this very trick that allows music club to freely operate and have fun right under the disapproving nose of MISS NYXX and the prison / school she runs with a firm "no fun" stance. BYRD has also modified the LIQUID ROOM tech so that he himself can avoid detection, which comes in handy with skipping class or avoiding others or sneaking up on them like he did in our latest page.
It's a very long story how BYRD and club founder VAL formed a friendly alliance long enough for him to install LIQUID ROOM tech, along with most of the Audio / Video equipment he modified in one way or another, inside a disused basement storage space that would ultimately become music club, but it was dramatic enough for BYRD to be on shaky ground with nearly everyone after.
Sometimes BYRD and the girls still hang out and say at least say hi: DJ decks, lights, and speakers need constant repair after all. But VAL, LANYA, and COSIMA will maintain as long as they can that BYRD is not part of music club, not officially anyways...
As for BYRD, "whatever, dude…" seems to be his stance on most personal relations. Anyways, he's busy working on a new pair of headphones; a combination of COSIMA's headphones (which he "borrowed" when she wasn't looking) and some strange new parts he found that might just be the best sounding things ever. Maybe COSIMA, and the rest of music club, would appreciate it if they just tried them out…
--------------
NOW, for those of you just joining us at HYPERSONIC music club and might be wondering what the heck is going on, we present all the story page so far below in chronological order…
---------------
BONUS!
So what else is going on in the wacky world of HYPERSONIC music club? Well, while artist Hiroyuki Takahashi is busy working on the next page of our story (to debut next week), he's also seemed to find the time to start an Instagram account. Follow it for a further peek into the life and times of one of Japan's very best artists (sample pic below).
Hiroyuki Takahashi on Instagram
Takahashi has also put his talents to a series of color illustrations for the Attack the Music record label. Below is another choice cut. Be sure to sample more at Attack the Music's soundcloud page.
HYPERSONIC STUFF FOR SALE!
Now, as we begin the fade out, consider this your friendly reminder that we are offering a HYPERSONIC music club postcard set in the Crunchyroll store: 5 cards on high quality glossy stock that does Hiroyuki Takahashi's colorful proud.
The Crunchyroll Store is also offering a pair of Hiroyuki Takahashi stunning illustration books originally sold at Comiket in Japan. Both his Original Character Illustrations Vol. 8 and Line Art Illustrations books are in limited quantities.
Hiroyuki Takahashi Original character illustrations Vol. 8
Hiroyuki Takahashi Line Illustration Art Book
We've also done a restock on the limited edition HYPERSONIC music club poster, signed by Hiroyuki Takahashi! Not too many of these left, so get one soon if you want one (which of course, you do).
HYPERSONIC POSTER SIGNED BY HIROYUKI TAKAHASHI
Also, we continue to offer signed items from our pal TORIENA, Japan's reigning queen of 8-bit chiptunes music. You can read our interview with her here.
NOW, as we prepare to dive deeper into the world of HYPERSONIC next week, here are the main links to keep track of!
HYPERSONIC music club Crunchyroll News page (Latest developments, new pages will on Crunchyroll News first)
hypersonic-music-club.tumblr.com (All art, bonus features)
hypersonic-comic.tumblr.com (story pages only, presented in standard webcomic format)
HYPERSONIC music club on Twitter (Updates, RTs of cool Japanese stuff)
HYPERSONIC music club on Crunchyroll Manga
Hiroyuki Takahashi on facebook (The artist himself!)
STAY HYPERSONIC, FIND THE MYSTERY FREQUENCY, AND SEE YOU NEXT WEEK!
------
Patrick Macias is editor in chief of Crunchyroll News and Otaku USA magazine. He is also the author of Paranoia Girls webcomic.