New title by Mugi Tanaka launches next week, 5/28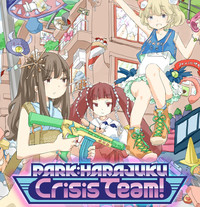 Last week, we teased an upcoming collaboration with up-and-coming Japanese artist Mugi Tanaka. Now, it's time for the full reveal! Starting next week, Mugi's first original webcomic, PARK Harajuku: Crisis Team!, will begin serialization exclusively on Crunchyroll starting on Thursday, May 28th!
PARK Harajuku: Crisis Team! will be updated weekly on Crunchyroll with new story pages, along with additional art featuring character bios and bonus materials.
Crisis Team! is part of a joint project with PARK, a retail store located in Harajuku, Tokyo, specializing in "Fashion x Otaku x Creation". In addition to the Crisis Team webcomic, Crunchyroll is now offering appeal and other unique goods from the PARK store direct to users via the Crunchyroll webstore (see items below in post if you don't believe us!).
But the main dish sure to cause a ruckus is the Crisis Team! story itself, created in collaboration with PARK, Mugi Tanaka, and me (Patrick Macias!): expect a wild mix of science fiction, everyday life, comedy, and action...
STORY
Several years from now, the great cities of the world will be destroyed by creatures from another planet. Their next target is…Tokyo's famed Harajuku district! Only a trio of treasure-seeking shop girls can hope to save the day. But first, do they have what it takes to become members of the PARK Harajuku: Crisis Team?
Characters
RITO
MARI
KOTOKO
In the meantime, social media for PARK Harajuku: Crisis Team! is already in effect! Feel free to sign up for updates at the following links:
EVEN BETTER THE FOLLOWING ITEMS FROM PARK HARAJUKU ARE NOW AVAILABLE FROM CRUNCHYROLL IN LIMITED QUANTITIES!!!
PARK Harajuku full color T-shirts!
Graphic print T-shirt featuring PARK Harajuku's original mascot characters. Made in Japan. SIZE: XL (one size fits all) Length: 29.9 inches width: 22.8 sleeve length: 9.4 width across the shoulders: 20.5. 100% Cotton
Set containing an illustrated clear folder and a postcard drawn by Mugi Tanaka to commemorate the opening of the PARK Harajuku store. Featuring PARK mascot characters Rito, Mari, and Kotoko. Clear folder: A4 size (8.23 inches × 11.7 inches) Printed on both sides. Postcard: 4 inches x 6 inches.
3-button set featuring PARK Harajuku's original mascot characters Rito, Mari, and Kotoko. SIZE: 1.5 inches in diameter.
3 sheets of assorted stickers featuring PARK Harajuku's original characters: Rito, Mari, and Kotoko. Various facial expressions and poses are included. SIZE: Length 9.8 inches × Width 6.7 inches.
First issue of PARK's Harajuku's original subculture magazine. Full color illustrations and photos from the "Fashion x Otaku x Creation" scene. 24 pages.
THE CRISIS TEAM GOES INTO BATTLE BEGINNING NEXT WEEK!
SEE YOU THEN!!!
------
Patrick Macias is editor in chief of Crunchyroll News and Otaku USA magazine. He is also the author of the HYPERSONIC music club webcomic.