The new webcomic by Hiroyuki Takahashi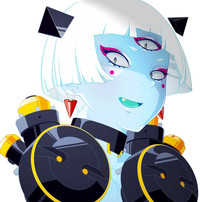 Last week marked a big milestone for Hiroyuki Takahashi's original HYPERSONIC music club webcomic as the villains of the piece – the Extra-Dimensional Monster Girls – finally made their big story debut. (By all means read the latest page to get caught up).
Now, here's your chance to more about these evil spirits from another dimension starting with Monster Girl 01, a.k.a PARSON. Afterwards, enjoy some new bonus art and updates from Hiroyuki Takahashi, who is now busy working on the next page which we will post real soon. Enjoy!
HYPERSONIC music club Character File 05: PARSON (Monster Girl 01)
When historians in the future stop dancing, stop partying, and actually sit down long enough to do what they are supposed to do and chronicle the major players in the Mystery Frequency Wars, one figure seems likely to tower above the others; surrounded by a dramatic cloud of dark smoke, laser lights, a shower of hot sparks, and her name in flaming red letters: PARSON, aka MONSTER GIRL 001.
Back before anyone knew any better in the late 20th century (long before the rise of SYSTEM) a handful of brave, paranoid, and alarmingly superstitious scientists speculated on the likelihood of something strange and wondrous called Extra-Dimensional Reality existing just outside of the range of human perception on a different vibrational frequency…and (more importantly)…they wanted a lot of money to prove it existed.
Of course, no would believe such wild conjecture, let alone throw billions of dollars at it, so lacking any proof for their wild notions about weird parallel worlds, these scientists were soon tarred, feathered, and literally run out of town on a rail by their peers.
But in truth, they were onto something. Extra-Dimensional Reality did exist, connected to our reality by a gateway known as the Overtones, which could only be opened by (you guessed it!) the power of the yet-undiscovered Mystery Frequency.
All of this would have been made explicit a lot sooner had the entire world not collapsed under the weight of the Big Crash, which reduced much of the world's technology, economy, and social structure to something resembling a recycling bin filled with ants and smashed-up aluminum cans.
It took years, but a new ruling power known as SYSTEM arose from the wreckage, and began to resume advances in AI, implants, cybernetics, and other fun stuff that helped to dehumanize the human race. BUT the more that people became machine-like, plugged in, and all-around cyborgated, the more they forgot about, discarded, and suppressed their feelings, especially the darker emotions and impulses. Since many people no longer slept -- preferring instead to plug into walls to charge up electronically -- they lost the need to sleep, and thus dream, and thus spend time processing their unconscious.
Backed up like a drainage pipe of psychic energy, the spiky, troublesome part of the human brain began to gain strength, sentience, multiple points of view and wills of their own. These newly invigorated and empowered things took their cues from the spiritual detritus of the human mind: gods, devils, and demons of now-forgotten cultures, religions, and occults. But as soon as they could think for themselves, they had also reached their limits… In order to continue their evolution, such ephemeral spirits needed a home of their own. Luckily, Extra-Dimensional Reality was then wide open and fertile ground for a weird new civilization to flourish.
The monstrous inhabitants of Extra Dimensional Reality figured out that sooner or later, they would get another crack at coming back into our world, and stage an invasion truly worthy of the return of the repressed, but someone on the other side would need to activate the Mystery Frequency first.
The timing would have to be split-second. Only the most lethal and most deadly could be trusted with phase one of the mission. And so, PARSON (identified by SYSTEM with the code designation MONSTER GIRL 01) was selected as the leader of a small party of warriors who would lead the charge through the Overtones if and when such an event occurred.
Free to take on any evil form she wanted, PARSON took her inspiration from assorted storm demons and underworld snake goddesses rife throughout human mythology. Her tone is and was generally disdainful, arrogant and commanding… and it has to be when the likes of MONSTER GIRL 02 (Cameron) and MONSTER GIRL 03 (Babalon) are at her side.
What PARSON plans to do now with the members of music club now that she has materialized with her Extra Dimensional Monster Girl warriors remains to be seen, but it won't be pretty when it's all over.
---------------------------
BONUS! Below is the original concept sketch of PARSON drawn by hand by Hiroyuki Takahashi, based on the character description. Her three eyes and forked tongue made it to the final version, although she lost her long hair and twin-tail snakes somewhere along the way.
------------------
So what else is new at the HYPERSONIC honeycomb hideout?
Well, we have a few new illustrations by the ever-busy Hiroyuki Takahashi to share. The first is his rendition of classic deep-tanned gyaru, one of the most iconic of subspecies ever to evolve out of the Japanese fashion scene. He hasn't yet said what the illustration is for, but I have a feeling dance music might just involved…
"Getting down" and "boogying" are also on the agenda for the upcoming Ani-Crush! Japan Anison Club Event for which Takahashi did the striking flier artwork. Ani-Crush! is usually active in Tokyo, but they are spreading out to Singapore for their next party on 6/21 as part of the CHARA EXPO 2015.
Ani-Crush! was nice enough to send us Takahashi's art minus the text, so we proudly present it below. By all means, if you like anime and music, check out Ani-Crush! on facebook and Twitter.
-----
HELP SUPPORT HYPERSONIC MUSIC CLUB! STUFF FOR SALE!
We've just added some brand new limited edition merchandise in the Crunchyroll Store for you to peruse and consider (and a million thanks to everyone who has bought HYPERSONIC stuff from us before!).
11" x 17" Hiroyuki Takahashi "Makina Exclamation G" Art Print
NEW! An 11" x 17" art print of an original illustration that Hiroyuki Takahashi made for the cover of the "Makina Exclamation G" music CD by DJ DEPATH. This is one of Takahashi's most definitive images, and was a major inspiration on HYPERSONIC. We proudly offer it here in as a limited edition item printed on high quality heavy glossy stock.
ALSO, we're offering the original "Makina Exclamation G" CD itself, 14-tracks of dance music mixed by DJ DEPATH in the best Japanese underground music tradition. To make it even better, the cover jacket is SIGNED by Hiroyuki Takahashi himself! Check it out! You can sample the album itself below!
OTHER HYPERSONIC ITEMS ARE AVAILABLE IN THE CRUNCHYROLL STORE! PLEASE CHECK 'EM OUT!
----
NOW, as we prepare to dive deeper into the world of HYPERSONIC next week, here are the main links to keep track of!
hypersonic-music-club.tumblr.com (All art, bonus features)
hypersonic-comic.tumblr.com (story pages only, presented in standard webcomic format)
HYPERSONIC music club on Twitter (Updates, RTs of cool Japanese stuff)
HYPERSONIC music club on Crunchyroll Manga
Hiroyuki Takahashi on facebook (The artist himself!)
STAY HYPERSONIC, FIND THE MYSTERY FREQUENCY, AND SEE YOU NEXT WEEK!
------
Patrick Macias is editor in chief of Crunchyroll News and Otaku USA magazine. He is also the author of Paranoia Girls webcomic.