We wrap up a month of character archetypes with the PRINCE/PRINCESS-type! Now kneel!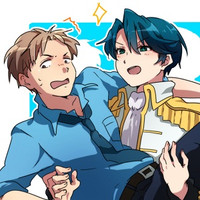 Fanart Friday returns, and holy crap, people, read the directions before submitting work! I'm happy to take your submissions and show them off, but I have these rules for my protection and convenience as well as yours! Last week, we continued our month-long CHARACTER ARCHETYPES theme with a look at the terrifying YANDERE, but this week we deal with the hilarious, histrionic, and often hyper-arrogant PRINCE and PRINCESS-types, otherwise known as OUJI and OJOUSAMA-types!
Don't worry, I'm saving "Princes of the Universe" for a later installment. Trust me with these!
The haughty hotties that represent this character type often think they're God's gift to this Earth, and a big part of their character development comes from them getting knocked down a peg--but not always. Now, let's get started!
DISCLAIMER: None of the art presented is the property of myself or Crunchyroll. All characters and series are tm and © their respective creators and corporate owners. All art is the creative property of their respective artists. Any artists who wish to have their work removed from this article may contact me, and appropriate action will be immediately taken.
by K. T
Let's start off with a fan-favorite Street Fighter character who's only appeared in one game--Karin! While her rival Sakura is a spunky and rough brawler, Karin is an elegant princess of her school with a more refined fighting style.
by 刃天
Of course, there are many types of "princesses," some of whom will make their "subjects" jump through hoops for them. I can totally see Food Wars' Erina doing this.
by 沙月ゆう
Other times, the "prince" isn't even a man! Persona 4's Naoto is a great example of this, being a proud, intelligent detective who generally keeps to herself and dresses in what's practical for her: more masculine clothing.
by 葉歩亜
Nozaki-kun's Kashima does wear a girls' school uniform, but she's a more realistic, toned-down (and hilariously awesome) "prince" of her school.


by アテカ
And then you have the prince who steps up and beats down anybody who lays a hand on her princess, like Utena! Yes, Utena, girls can be princes too, and sometimes they can do an amazing job of it.
by ultmte READER SUBMISSION!
The Clown Prince of Crime was an interesting submission by ultmte that got me thinking. I mean, sure, he's nuts and shows some major yandere tendencies, but in the end it's Joker's charisma and swagger that makes him so beloved--and feared. He's a preening peacock who expects attention and adoration, and all he wants to do is make Batman laugh.
Sure, Hayate the Combat Butler's Nagi Sanzenin isn't an actual princess, but the little spoiled brat sure acts like it!

by おきゃんきつね
There's not that much Monster Musume fanart, at least of Meroune Lorelei, but I'm pretty sure that'll change once the anime's out!

by あきやまおはぎ
Sports anime almost always have a prince-type character, and of course Prince of Tennis would have several! While Ryoma would work here, you guys asked for Keigo, and I'm actually more on that end of the court.

by hahachoo
When it comes to Ouran High School Host Club, I have always been a Tamaki fanboy and all of you get to hear this every single time you request him for Fanart Friday. But god damn if this isn't the cutest, most perfect piece of fanart I've seen of the lovable dork.

by shishio*
On the other end of the lovability spectrum, Girugamesh Gilgamesh from the Fate series is kind of a tool, and expects everybody to kneel before their master. At least he takes care of his subjects, right?

by Koda89 READER SUBMISSION!
Kill la Kill's Satsuki, on the other hand, expects a lot from her subjects. You'd better dress right, stand up straight, brush your teeth, trim your nails, and don't dare step out of line, or else.

by genii
Byakuya! Thank you for being the one shining hope in this panel I'm writing up called "Storytelling Through Action." Yes, I'm going to spend a solid third of this panel pointing at Bleach and saying "don't do that," but Byakuya and his role in developing the story through action is spot-on.

by まな
A few of these princes and princesses take control by force or fear, and Kuroko's Basketball lets each of the Generation of Miracles celebrate their (earned) popularity in different ways. Of them, though, only Akashi really takes to "ruling" naturally.
by Trendgold
Poor Weiss, I guess she is kinda lonely. I've heard it at cons, but you have no idea how glad I am that RWBY is as popular as it is. So let's start closing up with--
by celebistar READER SUBMISSION!
WAIT WAIT ONE MORE! celebistar really got this one in at the last minute, and of course it's a Nobunagun piece, featuring Geronimo (often called "Hime-san") and Vidocq, who's apparently pretty darn arrogant.
Okay, now we can start closing up!
by OroNoDa READER SUBMISSION!
So how do you like your not-quite-royalty? Do you like them cool and collected and calm, like Magic Knight Rayearth's Umi?

by 上月まんまる
Or friendly and bubbly and happy to bask in the glow, like Code Geass' Milly Ashford?

by でーぜる
Or maybe you just need an incredibly dominant, overbearing presence in the room, like Naga from Slayers?

by 杉 浩太郎
Let's be honest: I think we're all okay with snapping to attention, not for some loudmouth with an attitude problem, but for someone who really earns your adoration from the get-go.

And that's everything for this week! There's no way I could have included everybody--who are your favorite princes or princesses? Sound off in the comments and let us know!
So, usually I just write the directions in a little paragraph, but over the last couple months we've been running into some issues with submitting work to Fanart Friday. So here are the official instructions and rules, which will be copy-pasted from now until the end of time. BEHOLD--the FIVE FIATS OF FANART FRIDAY!

1. Your work is always welcome here, regardless of your skill level or experience. To submit work to Fanart Friday, please PM me (username Anonymooo) with a link to your work.
2. The link must be the full URL, don't use any URL shorteners like bit.ly or goo.gl. An example of a full URL is: http://anonymooo.deviantart.com/art/Mooo-vs-Redblood-Phill-Cover-22690857

3. Your work must be hosted on a site like Deviantart or Pixiv (or your own official art website), not on Imgur, Photobucket, Crunchyroll Photos, or anything along those lines. This provides a verifiable source for the work.
4. I, and by extension Crunchyroll, reserve the right to remove or not share your work if it is deemed inappropriate. Any submissions that don't follow these rules will not be permitted in Fanart Friday.

5. Be excellent to each other. Don't steal anyone else's work or make fun of artists' submissions.
Now, here are the next three themes for Fanart Friday!
-Next week, on JULY 3rd, I'll be out at ANIME EXPO, so SHANE LEWIS--yes, the Shane-nanigans guy--is taking over for a week! He'll be talking about a few of his favorite things, but at least expect One Piece and Gintama--the man has good taste! NO REQUESTS THIS WEEK, BUT SUBMISSIONS ARE WELCOME!
-Then, on JULY 10th, I return for a theme I've been wanting for some time: CHARACTERS WHO ARE FULL OF CRAP! Who talks the talk, but can't walk the walk?
-On JULY 17th, we celebrate the release of Ant-Man with a look at UNSUNG HEROES! Who doesn't get enough credit?
Thanks as always for coming by to check out Fanart Friday! Be sure to follow me on Twitter for more of my ramblings, and if any of you are gonna be at Anime Expo, come drop by the booth and say hello--or I'll see you at the Anamanaguchi concert! Have a great weekend, everybody!