New anime recommendations of what to watch next from your friends at Anime-Planet.com!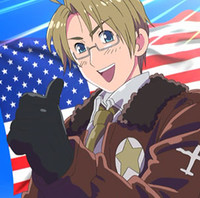 We're back once more for another edition of "Anime-Planet Recommends...", where we showcase some of the anime you recommend people might like on Anime-Planet.
It's the 4th of July in the USA, the day we Americans like to celebrate the birth of our country blow stuff up, eat lots of food and drink lots of beer. As a nod to those based in the USA, this week's article is dedicated to anime based in America.
This week's format will be a little different than usual: rather than showcasing some of the recent recommendation pairs you've made on Anime-Planet, we'll look at a specific theme/set of anime (America-based), and then look at some of the recommendations for that anime. Please reply in the comments if you'd like to see this sort of format once in awhile, as if so, they might start showing up more frequently in the future (horror anime, anime involving mysterious benefactors, comedies, or any one of these anime tags!)
Let's start things up with the most popular America-based anime on Anime-Planet: Baccano! It's safe to say this anime ranks high on many people's top lists. Based in the 1930s, this violent tale starts out on a train and involves a wide variety of characters - including the mafia - and has strong character development.
A huge amount of Anime-Planet users think you'd like Baccano if you liked Durarara - a recommendation pair we've featured in past Anime-Planet Recommends columns.
Here's just a few reasons you might enjoy one if you liked the other:
ZeroKami says:
"Baccano! and Durarara!! were made by the same author, so it shouldn't be a surprise that if you like one you'll enjoy the other as well. One of the main things I enjoy about both series is that they have a ton of different storylines all going on and interweaving at the same time. They eventually bring everything together and all the pieces fit together like a puzzle, and just like completing a puzzle it is satisfying to watch everything come together so perfectly. I also love how both series mix in comedy and action into the well-thoughtout overall plot."
And a second opinion by HopeFinder:
"Same author, same studio. Both anime focuses on various characters from the underworld--criminals, violent gangs and misfits with splashes of the occult and the supernatural but set in a thoroughly mdern society with ours. While Baccano! had immortals and mysterious elixirs propelling the story along, Durarara!! has a dullahan, which according to Irish myths, is a headless rider. Like Baccano!, Durarara!! is told by an all-seeing narrator, populated by a large cast, and initially seems very scattered in terms of its but should begin to make sense the more episodes you see."
Moving on to another anime in the same timeframe, Chrono Crusade takes place in 1920s New York City. The plot is far more fantastical in nature, following a nun named Rosette as she takes on holy missions to destroy foul spirits and monsters with her partner, a demon named Chrono.
One of the top recommended anime for Chrono Crusade is Trinity Blood.
Damaged thinks these two are similar because:
"Both of these anime have significant religious themes found in them. Both of them deal heavily in hunting something that is a threat to the church (in the case of Chrono Crusade, Devils and Trinity Blood Vampires). The both also have characters that you wouldn't think the Church would employ to help with the good fight (in Chrono Crusade a Devil and in Trinity Blood a Crusnik). Both of these anime also have a good deal of humor to lighten the load but with out detering from the story at hand."
For another title based in New York City, check out Red Garden. Four students at an elite school discover they have something mysterious in common. They find themselves drawn together by the death of a fellow student and the secret of their own missing memories, and things get even more strange from there.
Many think you'd like Red Garden if you appreciated some aspects of Gantz.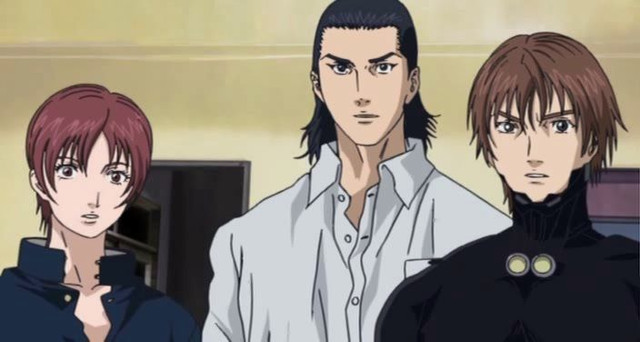 Raspberries explains:
"Both anime share some very similar plot devices, virtual strangers suddenly brought together and forced to work with one and other, as well as a very vague and mysterious goal. Both anime almost start with their MacGuffin, and work their way from there. Its only in the later half of either that you start to get a glimpse of the big picture for our protagonists. "
Gilgamesh is another frequent pairing with Red Garden.
tasanime thinks they're a good match because:
"'Gilamesh' (set in an apocalyptic near future) is a dark tale of four fractions who are trying to harness the power of individual groups of teenagers with special abilities. 'Red Garden' (set in the present) works on a similar premise, but between two opposing fractions. What ultimately links the two is not only the supernatural , mysterious and often horrific themes but is also the angle at which the viewer sees the stories unfold. Both revolve heavily around the young teenagers' overall experience of a changing world - here we see their personal struggle & drama, the pressures placed upon them and the difficult decisions they are forced to make - leaving you to question the integrity of the forces they fight for."
And now for something totally different, baseball fans likely shouldn't miss Major. Season 6 takes place in the USA, and follows Goro's adventures with the American Major Leagues.
The Major franchise is frequently recommended with other heavyweights in the genre, here's a few that VivisQueen recommends:
Everyone's favorite boxing anime, Hajime no Ippo!
She thinks you'd like it because:
"So you're watching Major and you think you've tasted the best that sports anime can offer? Think again! If you love Major, then Hajime no Ippo is a must-watch. With inspiring protagonists, tragic backgrounds, and an action-packed plot that never fails to give and is free of filler, you'll find Hajime no Ippo as gratifying (if not more so) as Major."
And for some feels, Cross Game.
She explains:
"After loving everything Major did, I cannot believe I almost missed out on Cross Game. Are you still twitching from that Post-Awesome Anime Depression? Miss that RAWR RAWR YEAH YEAH feeling and need a high to replace the one Major gave you? Then watch Cross Game. It's just as brilliant at developing nail-biting baseball games, combining it with heart-wrenching drama and marvellously involving character development for a thoroughly rousing experience."
In Pet Shop of Horrors, Count D runs a peculiar shop in Chinatown, in Los Angeles. Customers can acquire any form of animal or more exotic creature, but their purchases have very unexpected consequences.
You might enjoy Pet Shop of Horrors if you enjoyed XXXHOLiC.
Hell Girl is another good pairing.
NocturnalGloria says:
"These two series feature a mysterious supernatural entity that preys on human flaws. Both Pet Shop of Horrors and Jigoku Shoujo deal with passing judgment and convey a very dark and depressing mood through the anguish-filled situations that desperate people have to face. They both delve into terrible moral quandaries and impose contracts that bind the contractors with the terrible consequences of their choices. In these series the supernatural elements serve as a device to exploring the heavy toll that certain decisions entail, blending insanity with a brooding feeling of hopelessness."
Then there's Gunsmith Cats and Riding Bean, two high-octane, related titles that take place in Chicago.
The Anime-Planet community thinks you might like Riding Bean if you liked eX-Driver - which also happens to have a movie based in the USA.
MalteseFalcon thinks eX-Driver is a good pairing because:
"Motor revving, heart pumping, bullets flying, show stopping action pretty much defines these two series, with the main characters taking dangerous driving to the extreme. If you enjoyed these elements in one of the series, I am sure you will enjoy is in the other."
There's also Miami Guns, an action-packed series that follows two trigger-happy police officers who don't mind inflicting collateral damage when taking down the bad guys. As the name suggests, the anime takes place in Miami, Florida.
You might enjoy Miami Guns if you liked You're Under Arrest, though according to eibwen, YUA is the stronger series of the two.
He says:
"You're Under Arrest! series features a significantly more realistic portrayl of a police station, its officers, and their interaction with each other and the community. The series focuses on the policework of two female police officers who make fairly dynamic partners. The comedic episodes are actually funny, the serious episodes are actually dramatic, the action is actually fairly compelling, and there is continunity between episodes.
Regardless of whether you're looking to watch another police officer anime or just want to watch a good anime, consider watching You're Under Arrest!"
Speaking of which, You're Under Arrest also has a TV special that takes place in California: You're Under Arrest: No Mercy!
Heroman takes place in a fictional West Coast city based on Los Angeles.
You might also like Dokkoida if you liked Heroman.
unitzero says:
"Both Heroman and Dokkoida?! are about superheroes, aliens, and shounen fighting action. They both feel a lot more like American cartoons, then Japanese anime in style and execution. Dokkoida?! is more of a comedy and Heroman takes itself a little more seriously, but I think if you like one there's a good chance you will enjoy the other."
Another prominent USA-based title is Kaleido Star. In the series, a girl named Sora travels to the country to join a circus troupe and works hard to overcome the odds and become a star.
This shoujo story is sometimes recommended with Full Moon wo Sagashite.
faerieponey explains:
"Kaleido Star and FMoS both are about a girl whose dreams are very important to her, and she won't stop at anything in trying to accomplish them. Her guardians, who are not looked highly upon at first, grow alongside her, protect and take care of her. Both shows try to teach us that regardless of your fame and fortune, you should never forget who you are and where you came from."
There's also plenty of based-on-a-novel manga that take place in the USA, such as:
Ai Shoujo Pollyanna Monogatari
and Huckleberry Finn Monogatari
Still need more ideas on America-based anime? Check out the tag list. There's also some others that didn't make the tag cut since they don't fully take place in the country, such as Death Note, an episode of the Kimagure Orange Road OVA, Hetalia (which includes America himself, from the article's intro image!), and more.
That's it for this week! If you're celebrating the 4th, have fun tonight! Otherwise, get going on the Summer 2015 season!
And as always, if you can think of any titles that you think are similar to any of the above (or any other anime), make sure to add them on Anime-Planet so your suggestions can be showcased to the Crunchyroll community!
See you next time!
-------
Kim Cameron is the CEO and founder of Anime-Planet, a Crunchyroll partner and the world's first anime and manga recommendation database site. Follow her on Twitter at @AnimePlanet or on Facebook.