Make sure you've got your sunscreen on--this Fanart Friday is celebrating SUMMER!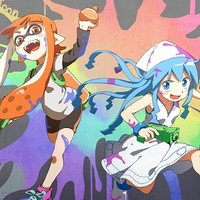 Fanart Friday returns, and you shouldn't shove a kickboard under the water unless you want a bloody nose, I say this from personal experience. Last week, we let out most of our anger at the characters we loved to hate, but this week it's back to an annual tradition: our SUMMER installment!
Like we do every year, this is a loose, fun Fanart Friday that's mostly about our favorite characters having fun in the sun, but I also asked you all which shows remind you the most of summer, or which titles you revisit during summer. Now, let's get started!
DISCLAIMER: None of the art presented is the property of myself or Crunchyroll. All characters and series are tm and © their respective creators and corporate owners. All art is the creative property of their respective artists. Any artists who wish to have their work removed from this article may contact me, and appropriate action will be immediately taken.
by yusorate
An important fact to take in this week is that the Japanese word for summer, "natsu," shows up in a bunch of the titles you requested! Cast in point, Natsu no Arashi!
by つしまろ
Not all fit that mold, though, and we'll get to those other titles soon enough--Squid Girl is the perfect summer chill show since it mostly takes place on the beach, and soon Squid Girl herself will be fighting it out in Splatoon, the perfect summer chill game!
by 耳
Have you ever wanted summer vacation to never end? I know I've been there, and The Melancholy of Haruhi Suzumiya took it to a hilarious extreme with the (in)famous Endless Eight arc!
by Nine
Back when Yoko wrote with us, we did an entire installment about Japanese summer and what that meant, and HaNaYaMaTa hits all the right checkmarks for a perfect Japanese summer show!
by eriyama
Although since I'm a bigger fan of goofy comedies, I'd say Arakawa Under the Bridge is more my kind of summer show. Leave the windows open, get some breeze, and enjoy the silliness.
by BlackAdam009 READER SUBMISSION!
Gundam shows, though... I marathoned the original Mobile Suit Gundam, Zeta Gundam, and 08th MS Team one college summer, but maybe I should have added Turn A Gundam to the mix!
by ぬこマス
Dude, Kaito, mind your hand there! Ano Natsu de Matteru is another story of young summer love, made all the more poignant by the impending end of summer.
by celebistar READER SUBMISSION!
Sometimes you need something harder-edged, more action-packed, and celebistar picks Nobunagun as her summer show! Can't say I disagree with her.
by おか
Again going with the "SUMMER IS IN THE TITLE" theme, Natsume Yujin-cho provides breezy, chill stories about spirits that often get serious, but never oppressive. Good times all around!
by ハブキ
As an artist, I always appreciate good calligraphy, and that's where Barakamon comes in! I still have to actually give this one a shot sometime--maybe when I'm caught up on my simulcasts.
by クル
Nintendo has practically perfected the "summer game," especially with The Legend of Zelda: The Wind Waker, a gorgeous and glorious adventure across the Great Sea. You can feel the breeze and smell the ocean salt as you trek from island to island--how can anyone not like the sailing in this game?
by ultmte READER SUBMISSION!
As I mentioned before, comedies are an important part of summer for me--long weekends (re)watching Half-Baked or Happy Gilmore in high school get brought back by something as raunchy and hilarious as Shimoneta!
by E9L
Maybe sometimes what we need in summer is a good cry. AIR did that well enough, but do you think we're going to get that much hurt from this season's Charlotte?
by 鈴鹿
I dunno, aside from comedies, what I really need come summertime is some ass-kicking and adventure, like Captain Ass Captain Earth!
by コ゛りぼて
Or Non Non Biyori! Well, okay, the show isn't like this at all. I think. Renge doesn't have powers from reading all that Jump, right? I just need to watch more?
by MadPandaKira READER SUBMISSION!
Poor Italy, of course I'm not going to hit you! Although I can guess that the same promise won't go for the rest of Hetalia's cast...
by ひのた
I make jokes that baseball (like basketball) is for f**king casuals and the only real sports are MMA, BJJ, judo, and boxing, but baseball is a major part of summer, and Ace of the Diamond is the best way to get your baseball fix when you're not actually watching games!
by OroNoDa READER SUBMISSION!
Somebody asked last week for bathing suits and tanlines, and OroNoDa Free!ly delivered! (Yes, I know this isn't what you meant. "Making deals with the devil" and all that.)
by Wardfolio
So to start wrapping up, I'm going to talk about a show that defined my summer breaks back in Hawaii--well, not a show as much as a movie: Ninja Scroll! I'm surprised the VHS tape didn't die from my friend Rob and I watching it so many times--and quickly fast-forwarding certain scenes whenever an adult would walk through the living room.
by ダニーダラー
Yes, this summer installment is over, but just like in Anohana, let's hear you call for it: ONE MORE TIME!
ONE! MORE! TIME!
shut up I'm not crying you're crying
And that's everything for this week! "Summer" is kind of a broad theme, so instead of the usual question, I'll ask: what have you been doing all summer? Have you gone on vacation? Worked on a specific project? Let us know what you've been up to!
For those of you wanting to submit your art here, behold--the FIVE FIATS OF FANART FRIDAY!
1. Your work is always welcome here, regardless of your skill level or experience. To submit work to Fanart Friday, please PM me (username Anonymooo) with a link to your work.
2. The link must be the full URL, don't use any URL shorteners like bit.ly or goo.gl. An example of a full URL is: http://anonymooo.deviantart.com/art/Mooo-vs-Redblood-Phill-Cover-22690857

3. Your work must be hosted on a site like Deviantart or Pixiv (or your own official art website), not on Imgur, Photobucket,Crunchyroll Photos, or anything along those lines. This provides a verifiable source for the work.
4. I, and by extension Crunchyroll, reserve the right to remove or not share your work if it is deemed inappropriate. Any submissions that don't follow these rules will not be permitted in Fanart Friday.

5. Be excellent to each other. Don't steal anyone else's work or make fun of artists' submissions.
Now, here are the next three themes for Fanart Friday!
-Next week, on AUGUST 14th, it's time for the long-awaited DRUNKYROLL EDITION! Here's how this will work: NO REQUESTS FOR THIS COMING INSTALLMENT, ONLY SUBMISSIONS. My friends here at CR will choose a bunch of fanart, I will get trashed, and then I'll write all of the coming week's commentary while trying not to die. No song next week, either--expect a video intro from my drunk self and some familiar Crunchyroll faces!
-Then, on AUGUST 21st, I'm out of town for a family thing, so LUGIAMANIA AND CELEBISTAR will be teaming up to take care of the column! No, celebistar, you can't do a full Nobunagun-themed installment.
-On AUGUST 28th, I'll be out of town again, this time at PAX PRIME, so CRN reviews (and Monthly Mangaka Spotlight) writer PETER FOBIAN will be taking a turn on Fanart Friday! I'm expecting a lot of Tsutomu Nihei, Oh!Great, Guilty Gear, and League of Legends.
Thanks as always for dropping by to check out Fanart Friday! Have a great weekend, and I hope you come by again next week!