What has a long, wet tongue and legs for days? The KARAKASA-OBAKE, of course!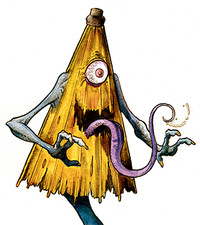 Welcome back to Monster Mondays, a new, bi-weekly column featuring youkai, monsters, ghosts, and other elements of Japanese folklore.
Last week, we discussed the most famous youkai: the Kappa. This week, we'll learn about one of the more whimsical and obscure creatures: the Karakasa-obake! (also known as the One-Legged Umbrella or Karakasa kozo).
This leggy, lovable guy isn't as well known as many of its youkai brethren. The Karakasa-obake has one eye, one leg (complete with a sandalled foot), and a long, lolling tongue. They're generally considered to be more playful than some of their cohorts (such as the anus-eating, homocidal Kappa!).
Karakasa-obake belong to a category of youkai called tsukumogami: ordinary household objects that become alive and aware after being used for one hundred years. We'll cover other types of tsukumogami in future editions of Monster Mondays, though Karakasa-obake are the most well known variety.
While Karakasa-obake frequently appear in legends, their origin is unclear. Typically, eyewitness accounts are a staple of youkai folklore - for example, a person might insist that they saw a Kappa with their own two eyes. But Karakasa-obake don't have this sort of notoriety, leading some to believe they were created by storytellers.
Karakasa-obake rarely are the stars of the show, instead having cameos in anime, manga, and other forms of media.
Arguably one of the best and most hilarious Karakasa-obake appearances comes from the 1968 Japanese classic film Youkai Hyaku Monogatari. For maximum comedy value, make sure you have your sound turned on when viewing the below two Youtube clips.
Anime and manga sightings
Their appearances in anime and manga are also limited, but here's a few you may have seen:
Better get used to Youkai Watch, as it surely will be featured in almost all Monster Mondays! There's a plucky Karakasa-obake in the series.
Pom Poko
Studio Ghibli's Pom Poko is another heavy hitter when it comes to youkai, given the dozens - including a Karakasa-obake - that appear during the film's depiction of the "Night Parade of One Hundred Demons".
Episode 6 of Karas has a brief cameo by a Karakasa-obake - it springs into action, shielding some people from falling glass.
In the ecchi, supernatural, harem series Rosario to Vampire, the "Fan Club Coalition" is made up of three youkai who idolize Moka, Kurumu and Yukari. There's Kozo (a Karakasa-obake), Kubisaku (a Rokurokubi - aka long necked youkai - which will be covered in a future article), and Bozaburo, a large blob-like youkai (I suspect he's a Nurikabe, but can't find definitive proof yet...)
Gegege no Kitarou
The Gegege no Kitarou franchise is another strong source of Youkai sightings. The Karakasa-obake frequently makes minor appearances in the franchise.


Ranma 1/2
In episode 45 of Ranma 1/2, a Karakasa-obake chases Ranma through the streets - but of course, it's not a real Karakasa-obake, it's Tsubasa chasing after Ranma in a youkai costume!
Osaka from Azumanga Daioh certainly isn't a youkai - but she looks super cute wearing a Karakasa-obake costume!
Karakasa-obake in other media
It's suprisingly easy to find these guys in fanart, indie merchandise and other mediums. Here's a few notable occurrences.
Touhou Project
Kogasa Tatara is a Karakasa-obake-inspired character from the Touhou Project game series. As far as I can tell, she doesn't appear in the Touhou-related anime or manga.
The Youtube channel Nacho Punch created a spoof called Tokyo Ghostbusters - the 1980 anime that has a Karakasa-obake cameo.
You can even buy a Karakasa-obake Halloween costume (I MUST acquire one of these!!)
But let's end things off with what might be the best and most amazing find of all time. Prepare yourself, my friends, for the gloriousness that is KARAKASA MIKU!
....THIS IS A REAL THING. Kimix-Gogo made a hybrid Hatsune Mike / Karakasa-obake figure. Because, Japan.
And as if it couldn't get any weirder, if you remove the top OH GOD WHAT IS GOING ON UNDER THERE SEND HELP
If any of you out there in Crunchyroll land have one of these, please do us all a favor and post some live-action pictures of this amazing piece of wtf??? art!
Thanks for tuning in this week! Make sure to be on the lookout for this adorable, wacky youkai in Japanese pop culture, and if you've spotted others that aren't mentioned above, let me know in the comments!
See you next time!
-------
Kim Cameron is the CEO and founder of Anime-Planet, Crunchyroll's partner and the world's first anime and manga recommendation database site, and author of the "Anime-Planet Recommends..." and "Monster Mondays" columns on Crunchyroll. Follow her on Twitter at @AnimePlanet or on Facebook.