With model Kimura U and artist Hiroyuki Takahashi!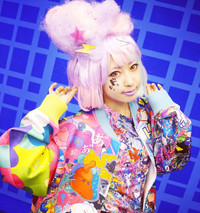 Wow! HYPERSONIC music club, Crunchyroll's original webcomic, has inspired a pair of new videos featuring Japan's kawaii icon Kimura U! Watch as U shows off her HYPERSONIC inspired wild style, and as artist Hiroyuki Takahashi displays his amazing digital drawing skills. Enjoy these clips, created by KAWAII PATEEN and DoKiDoKi Drawing respectively, below!
For those of you just joining us, HYPERSONIC music club is artist Hiroyuki Takahashi's first original webcomic and is exclusive to Crunchyroll (although you can read it here and here, too).
The Real-Time drawing video below is pretty much essential viewing for fans of Hiroyuki Takahashi's unique art style. Note how he creates his work using Adobe Illustrator in a single layer using only the computer mouse! Now THAT's talent!
---------------------------------
So what else is going on at HYPERSONIC headquarters? Well, we can't lie. Our recent apparel collaboration with galaxxxy has created a bit of buzz in Japan and in other points around the globe. We're suddenly seeing some of our favorite people wearing our limited edition HYPERSONIC T-shirts and Jackets. Here's a sample of some highlights…
Kimura U (obviously...)
Model and singer Yun*Chi (who wore the shirt to the XPAX FantasyFest in Malaysia last weekend)
Idol singer Ikura from unit Q'ulle
Experimental extra-dimensional seifuku cyborg DJ ktenologics
Sadly, both the shirt and jacket are now totally sold out, but hey, you never know if a restock could be in the cards, especially in time for Xmas (hint hint). In the meantime, the following items are still available!
ALSO, we're offering the original "Makina Exclamation G" CD itself, 14-tracks of dance music mixed by DJ DEPATH in the best Japanese underground music tradition. To make it even better, the cover jacket is SIGNED by Hiroyuki Takahashi himself! Check it out! You can sample the album itself below!
From the artist of HYPERSONIC music club! Hiroyuki Takahashi reveals his unique creative process in this book which collects black and white sketches and line art for his original characters in a 64 page softcover book. Now is your chance to own this visually stunning item, originally printed in limited quantities for sale at 2014 winter Comic Market in Japan.
The amazing retro-game themed promo video for TORIENA and M7kenji's "Pulse Fighter" gets the deluxe treatment in this DVD-ROM containing a wealth of video and musical extras. Contains the full Pulse Fighter PV, rough cut, and outtakes, along with six bonus remixes of the "Pulse Fighter" song, and pixel data. Also includes a full color booklet featuring art by TORIENA herself. Exclusive from MADMILKY RECORDS. Compatible with PC and Mac. DVD package is signed by TORIENA herself!
MEME NOISE is the new EP by TORIENA featuring vocals by Kyun-Kun. Five tracks of stunning, futuristic chiptunes dance pop, including multiple versions of the title track. SIGNED BY TORIENA! Support the artist!
------------
Finally, for those of you following the story and characters of HYPERSONIC music club, here's your update: the script for the first scene of Chapter Two has been sent to Hiroyuki Takahashi, who (we presume) is now toiling away on it.
hypersonic-music-club.tumblr.com (All art, bonus features)
hypersonic-comic.tumblr.com (story pages only, presented in standard webcomic format)
HYPERSONIC music club on Twitter (Updates, RTs of cool Japanese stuff)
HYPERSONIC music club on Crunchyroll Manga
Hiroyuki Takahashi on facebook (The artist himself!)
STAY HYPERSONIC, FIND THE MYSTERY FREQUENCY, AND SEE YOU SOON!!
-------
Patrick Macias is editor in chief of Crunchyroll News & Otaku USA magazine.
He is also the writer of HYPERSONIC music club, Paranoia Girls, & PARK Harajuku: Crisis Team