Aniplex, Kyoto Animation, Pony Canyon, Toho Animation, Kadokawa, and more companies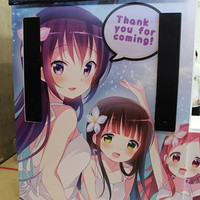 The 89th Comic Market/Comiket is now being held at Tokyo Big Sight for three days, from December 29 to 31, attracting a massive 150,000 visitors on its first day and 170,000 on its second. While its main attractions are doujinshi books published by amateur creators, many major anime/manga/game companies are also setting their booths in the industry section, located on the fourth floor of the west hall, to promote their latest titles.
After participating on the first day for my own doujinshi circle (Fantastic Yuri Rhythm), I checked the industry booths, taking some photos for the Crunchyroll News readers below.
*all of the photos were taken by Mikikazu Komatsu with the Comic Market organizer's permission on December 30, 2015
Tokyo Big Sight
West Hall 4th Floor
---
Aniplex (booth number 111)
Unity-Chan! (131)
TMS Entertainment (151)
NHK (161)
Creator's Office ufotable (211)
VisualArt's (213)
Daiya no Ace/Monogatari series official store (222)
Kyoto Animation & Do Shop! (223)
Broccoli (231)
Pony Canyon (232)
Bushiroad (311)
dAnime Store (313)
IRroid (314)
Shogakukan (315)
Diomedia (324)
Chugai Mining (327)
OIOI (328)
Shomin Sample (336)
Anne Happy (337)
GekiDol (338)
Toho Animation (339)
P.A. Works (342)
avex pictures (343)
Marvelous (344)
Chivalry of a Failed Knight & Undefeated Bahamut Chronicle (351)
Active Raid (352)
Shonengahousha (353)
Overlap (354)
Minato Soft (431)
NBC Universal Entertainment Japan (451)
Good Smile Company (521)
5pb. (541)
Nihon Falcom (545)
Kadokawa (561)
Kogado Studio (634)
Takara Tommy (641)
Anippon. (642)
Curtain Damashii (643)
---
"Shoujotachi wa Kouya wo Mezasu"
"Tantei Opera Milky Holmes the Movie: Milky Holmes' Counterattack"
"Kabaneri of The Iron Fortress"