Blend in with the blizzard on this week's Fanart Friday with the color WHITE!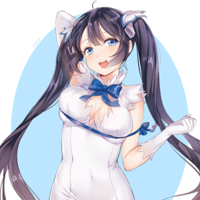 Fanart Friday returns, and does anybody have a Tide pen handy? Stains on white, man, it's rough. Last week, we continued our three-week COLORS theme with the always-flattering BLACK, and this week we close up the theme with its polar opposite, WHITE!
Often used as a color to represent novices (like a white belt), goodness (like the Pope's robes), or purity (like a wedding dress), white can also represent death--y'know, like a corpse--and characters who wear white can represent a lot of things in between all of those. Let's get started!
DISCLAIMER: None of the art presented is the property of myself or Crunchyroll. All characters and series are tm and © their respective creators and corporate owners. All art is the creative property of their respective artists. Any artists who wish to have their work removed from this article may contact Nate, and appropriate action will be immediately taken. ALL OPINIONS ARE MY OWN AND ARE NOT THE OPINIONS OF CRUNCHYROLL, INC., ELLATION, OR ANY EMPLOYEES THEREOF.
by 肉田・ド・スカルテ
Let's start with something more symbolic and spread throughout its series--Evangelion! While some of you requested Rei (for her white plugsuit), we also have Shinji, constantly in a white school uniform (and always at the real low points of the series), and Kaworu, who's just a glowing white apparition, not to mention the EVA Series that Asuka takes on...
by Gakenzi READER SUBMISSION!
While No Game No Life's Shiro barely has any white on her (her hair kinda counts), "Shiro" literally means "white," so she more than counts!
by れおみ
Now for something classic! Jungle Emperor Leo/Kimba the White Lion was about a young white lion protecting his kingdom from villains!
by BlackAdam009 READER SUBMISSION!
Damn, did I love Drakengard 3--Zero's white outfit (which very quickly got covered in gore) and the adorably inappropriate Mikhail get shown off here!
by GB
Baccano's Ladd also shows just how helpful a white outfit is in showing off how much ass you've kicked in a day--it's just like the ending of the John Woo movie The Killer!
by TheAZ126 READER SUBMISSION!
Korean webtoon Tower of God makes another appearance on Fanart Friday--thanks, TheAZ126, for signal-boosting this series!
by Ixy
I guess you could also count "blue" as Squid Girl's color, but notice how every outfit she has is white?
by akamarulover2 READER SUBMISSION!
You don't really hear of characters being named "Whitey" any more, but Shiro is a more common name in anime than you'd think--here's another Shiro, this time the deuteragonist from Deadman Wonderland that I always thought was naked at first!
by pennydox READER SUBMISSION!
And here's another Shiro! I'm kind of blown away at just how many of you sent in art--thank you very much, guys! You are literally making up half of this Fanart Friday!
by ナツキ
In most fantasy universes, white magic deals in healing and support, and for me, Final Fantasy's best White Mage was Garnet, from Final Fantasy IX!
by 葉狼
There are a lot of different methods for dealing with bears--if it's a black bear, get big and make noise. If it's a grizzly or brown bear, play dead. If it's a polar bear, make your peace with God--unless it's the one from Polar Bear Cafe!
by celebistar READER SUBMISSION!
And... okay, yes, snow is white, it's why I chose the title for this week's installment. I haven't seen snow in a long while, but I'll see some at our company trip--I'll take lots of pictures, and try to get video of a sneak snowball attack.
by 韭方★JouFang
Hey, so remember when I did the "elements" theme and all of you guys swarmed the column with D-FRAG? Thank you this time for swarming the column with RWBY, which actually makes sense this time around--here's Weiss Schnee!
by ultmte READER SUBMISSION!
While there may be accents of blue, yellow, and red, the traditional Gundam base color is white!
by しょういん
Asuna's white armor is a great contrast to Kirito's black cloack--kind of a shame she switched to blue (and became a healer instead of a frontline fighter) in the next game!
by someone-else READER SUBMISSION!
Honestly, this might have been a better fit for last week, but white makes for a great accent, and it stands out on black really well! Just... look at how heartbroken she is!
by kaizoku5493 READER SUBMISSION!
I've mentioned it a couple times before, but in Asian cultures, white is traditionally a color of death, which I think really fits for Grave of the Fireflies. Both kids are wearing white, and they have to deal with a world that's steadily falling apart around them.
by 腸掌
I mentioned the "little black dress" last week, but white is also a decidedly sexy color, and who better to represent it than Emma Frost, the White Queen?
by mery
I mean, I guess Hestia's cool, too.
by OroNoDa READER SUBMISSION!
Gintama is not all sunshine and goofiness, especially when it brings up Gintoki's past as "the White Yaksha," a ferocious war hero, and all the pain associated with his past.
by MadPandaKira READER SUBMISSION!
But even now, the White Yaksha gets to cut loose--with some badasses in black at his back!
And that's everything for this week! Who are your favorite characters who represent (or are dressed in) the color white? There's no way I could have included everybody--sound off in the comments and let us know!
For those of you wanting to submit your art here, behold--the FIVE FIATS OF FANART FRIDAY!
1. Your work is always welcome here, regardless of your skill level or experience. To submit work to Fanart Friday, please PM me (username Anonymooo) with a link to your work.
2. The link must be the full URL, don't use any URL shorteners like bit.ly or goo.gl. An example of a full URL is:http://anonymooo.deviantart.com/art/Mooo-vs-Redblood-Phill-Cover-22690857

3. Your work must be hosted on a site like Deviantart or Pixiv (or your own official art website), not on Imgur, Photobucket,Crunchyroll Photos, or anything along those lines. This provides a verifiable source for the work.
4. I, and by extension Crunchyroll, reserve the right to remove or not share your work if it is deemed inappropriate. Any submissions that don't follow these rules will not be permitted in Fanart Friday.

5. Be excellent to each other. Don't steal anyone else's work or make fun of artists' submissions.
Now, here are the next three themes for Fanart Friday!
-Next week, on FEBRUARY 5th, Fanart Friday's MONTH OF LOVE starts, with one of the hardest things to deal with: UNREQUITED LOVE! Let's all take a deep breath and share a collective "we've been there, I know that feel," and join our favorite hopeless romantics! THIS IS THE ONLY THEME I'M ACCEPTING REQUESTS OR SUBMISSIONS FOR THIS WEEK!
-Then, on FEBRUARY 12th, we move on... to people who have moved on to the next step! COUPLES take the stage, and we're going to keep the grumbling to a minimum!
-On FEBRUARY 19th, we're bringing back a favorite two-parter to wrap up the MONTH OF LOVE: part one of THE HAWTNESS EDITION is here, starting with the HOTTEST MEN!
Thanks again, everybody, for coming by to check out Fanart Friday! Have a great weekend, and I hope you'll drop by next week, too!
-------
Nate Ming is the Features and Reviews Editor for Crunchyroll News, creator of the long-running Fanart Friday column, and the Customer Support Lead for Crunchyroll. You can follow him on Twitter at @NateMing.